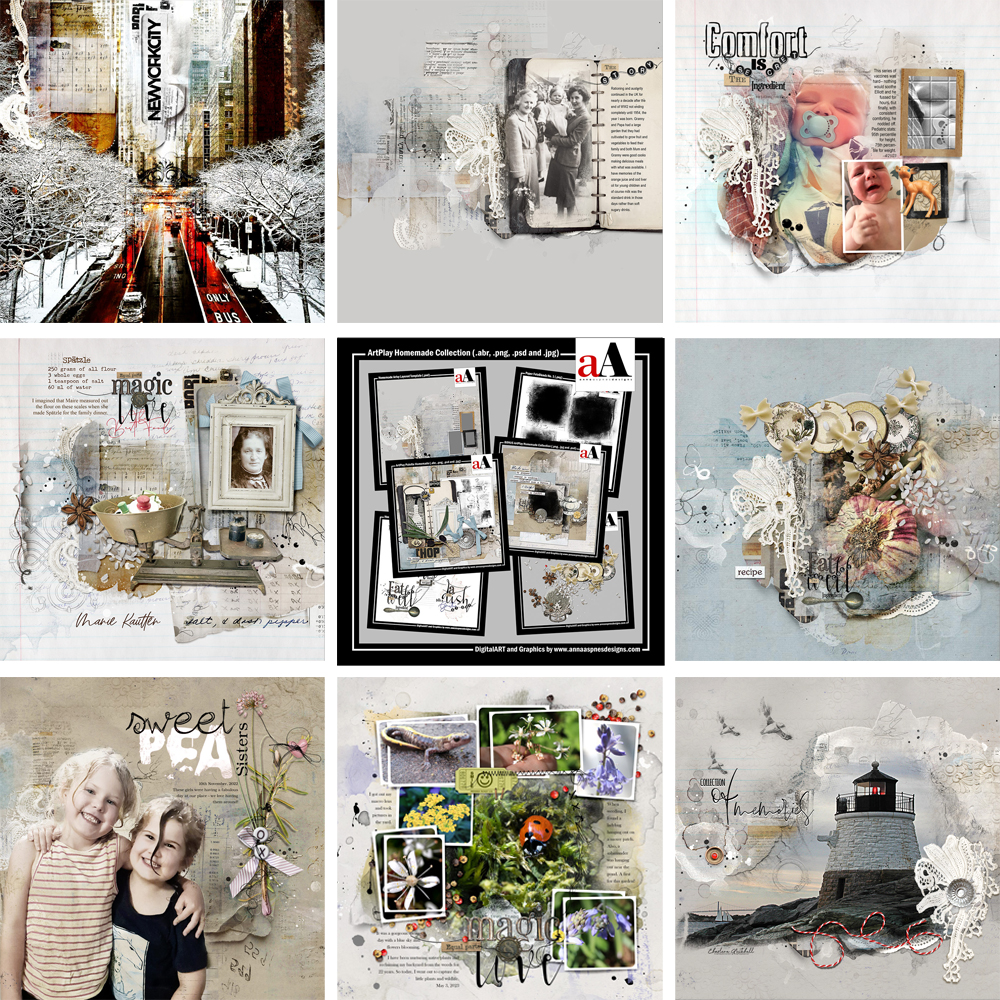 ArtPlay Homemade Inspiration for digital scrapbooking and photo artistry in Adobe Photoshop and Elements.
This post is intended to give you guidance on using ArtPlay Palette Homemade and co-ordinating digital assets.
ArtPlay Homemade Inspiration
1. Document a Recipe
Make a family recipe keepsake by combining a photo, context and memorabilia.
Create a page using a Family Recipe – Scan or type as preferred.
Frame a photo of the family member, and perhaps, include an Extracted image of an Heirloom.
SEE ALSO:
2. Cut, Tuck and Fold
Use the techniques from Cut, Blend and Align to create a digital pocket for your photos.
Cut digital papers and apply Cast Shadows.
Expand these techniques to create paper Folds and Pockets.
Align with digital elements from ArtPlay Homemade Collection.
SEE ALSO:
3. Mix and Match
Combine this collection with other

a

A

DigitalART supplies to supporting your digital scrapbooking and photo artistry pages.
You can make any ArtPlay Palette work with any Photo/Story.
Cover Up elements with Transfers/Overlays or use your Blending Skills to mask any part of your layout design.
Add elements from your Digital Archives to embellish and support Motif.
SEE ALSO:
More Inspiration
Click on the images below to access complete digital design supply lists and process notes.
ArtPlay Homemade Collection
DIGITAL ASSETS WITH VINTAGE HUES AND MOTIF MEETS TEXTURE GALORE FOR RECIPE, COOKING, FOOD AND EATING DIGITAL SCRAPBOOKING AND PHOTO ARTISTRY PAGES.
INCLUDES:
Want More Digital Scrapbooking and Photo Artistry Inspiration?