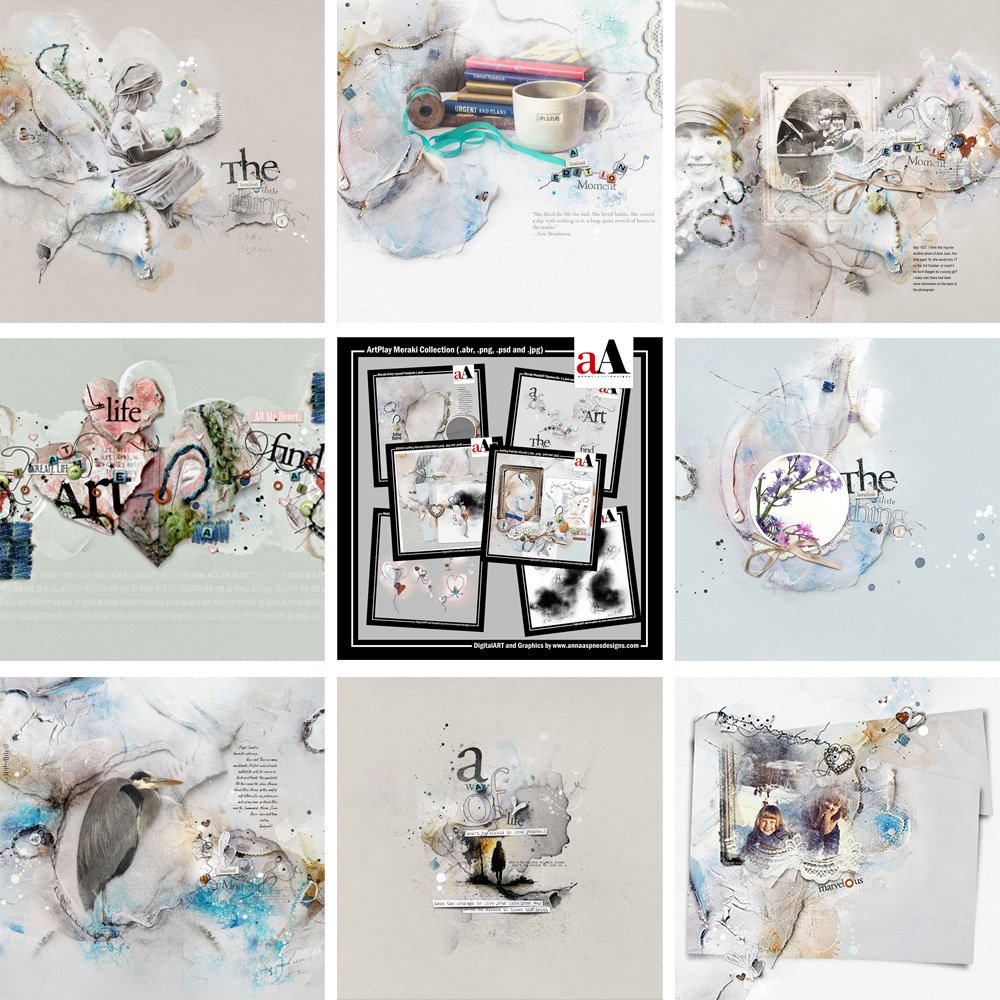 ArtPlay Meraki Inspiration for digital scrapbooking and photo artistry in Adobe Photoshop and Elements.
This post is intended to give you guidance on using ArtPlay Palette Meraki and co-ordinating digital assets.
ArtPlay Meraki Inspiration
1. Customize WordART
Use the clipping mask function to embellish word elements to customize your photo artistry and digital scrapbooking pages.
The Meraki WordART Clusters are delivered in layered .psd and Individual .png format.
This allows you to Customize the individual word elements to better support your photo artistry.
Notice how Diane has clipped a digital image to the 'Art' layer to Coordinate with her photos.
SEE ALSO:
2. Apply Blending Modes
Apply Blending Modes to embellishments to achieve different effects in your photo artistry and digital scrapbooking pages.
It is typical to apply a Drop Shadow Layer Style to dimensional embellishments.
Instead experiment with different Blending Modes to create Transparency and Depth in your layout designs.
Fiona has applied a Screen Blending Mode to the frame layer to elevate her artistry.
SEE ALSO:
3. Support Your Photos
Use the fiber art in the ArtPlay Palette elements as an extension of your focal point.
These dimensional features of the Artsy Papers make perfect little 'perches' for your Photo Extractions.
Adopt the Techniques in this class to remove the background from your photo.
Use the fiber art elements to ground your Focal Point.
SEE ALSO:
More Inspiration
Click on the images below to access complete digital design supply lists and process notes.
Want More Digital Scrapbooking and Photo Artistry Inspiration?