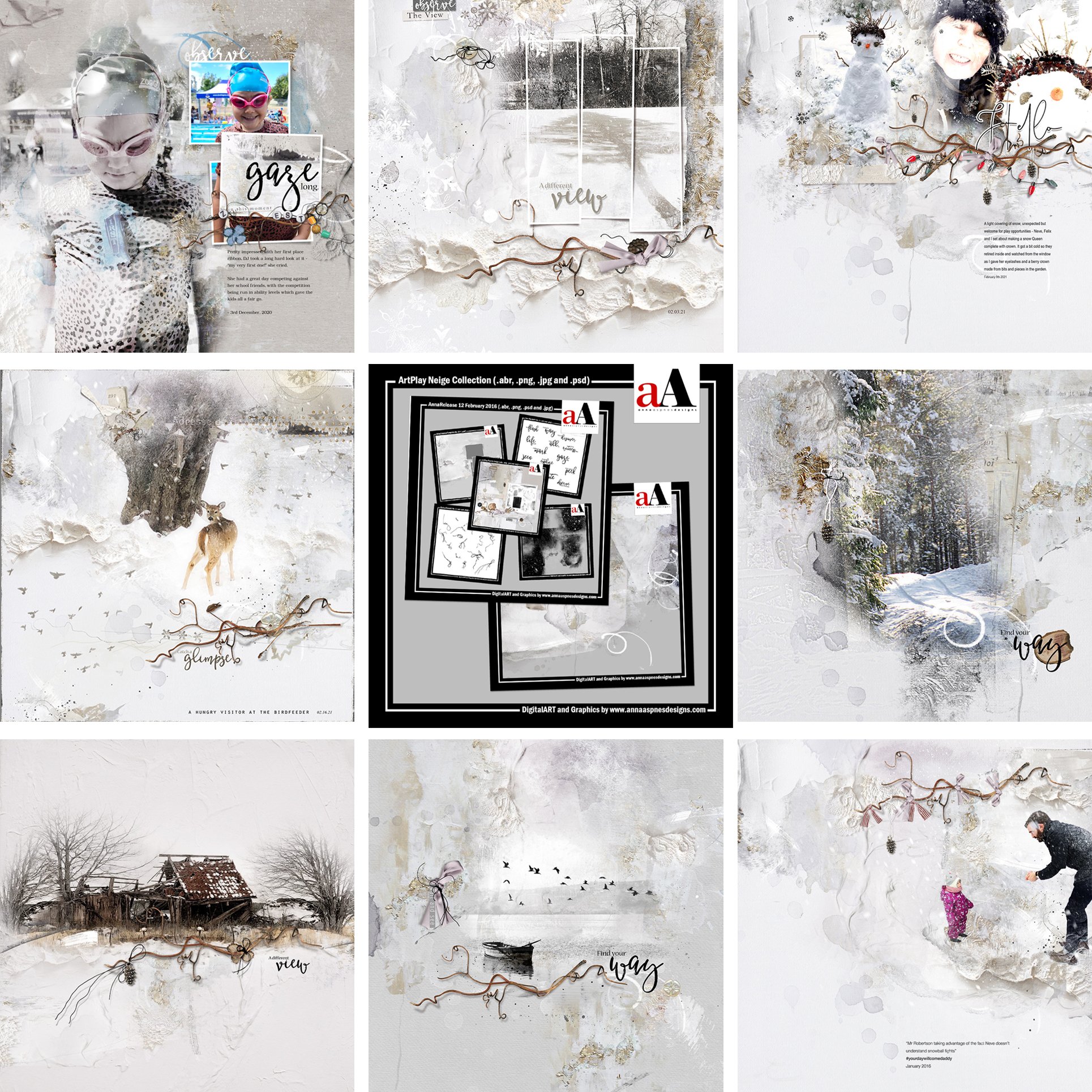 Inspiration for using the ArtPlay Neige Inspiration for digital scrapbooking and photo artistry in Adobe Photoshop and Elements.
This post is intended to give you guidance on using ArtPlay Palette Neige, ArtsyTransfers and co-ordinating digital assets.
ArtPlay Neige Inspiration
1. Lead and Adhere
Use a frame to draw the eye and adhere to your digital scrapbooking page with Stitching.
Place a the frame from the ArtPlay Palette Neige over your photo to create a Focal Point.
Adhere this element to your photo artistry layout using the ButtonThreadz No. 1.
Notice how this leads the eye to the subject in her digital scrapbooking page.
SEE ALSO:
2. Use Linear Design
Create a photo artistry layout design that extends from one side of the page to another.
Blend the top and bottom edge of one photo over an Artsy Paper to lead the eye in a Linear/Band Design across the digital scrapbooking page.
You can Custom Blend a photo using a layer mask and brushes or use a FotoBlendz Clipping Mask.
Notice how Pam had placed her elements to Align with the bottom edge of her photo.
SEE ALSO:
3. Frame Your Layouts
Place artistry around the edges of you layout design to create an artsy framing effect for your digital scrapbooking page
Arrange Transfers/Overlays and dimensional embellishments from ArtPlay Palette Neige at the edges of your photo artistry layout.
The elements can be Rotated and Positioned 'off the edge' of the page so that they are only partially visible.
We love how Suzie has also Contained her blended photo in this artsy digital scrapbooking page.
SEE ALSO:
More Inspiration
Click on the images below to access complete digital design supply lists and process notes.
ArtPlay Neige Collection
INCLUDES:
BONUS VIDEO:
Want More Digital Scrapbooking and Photo Artistry Inspiration?