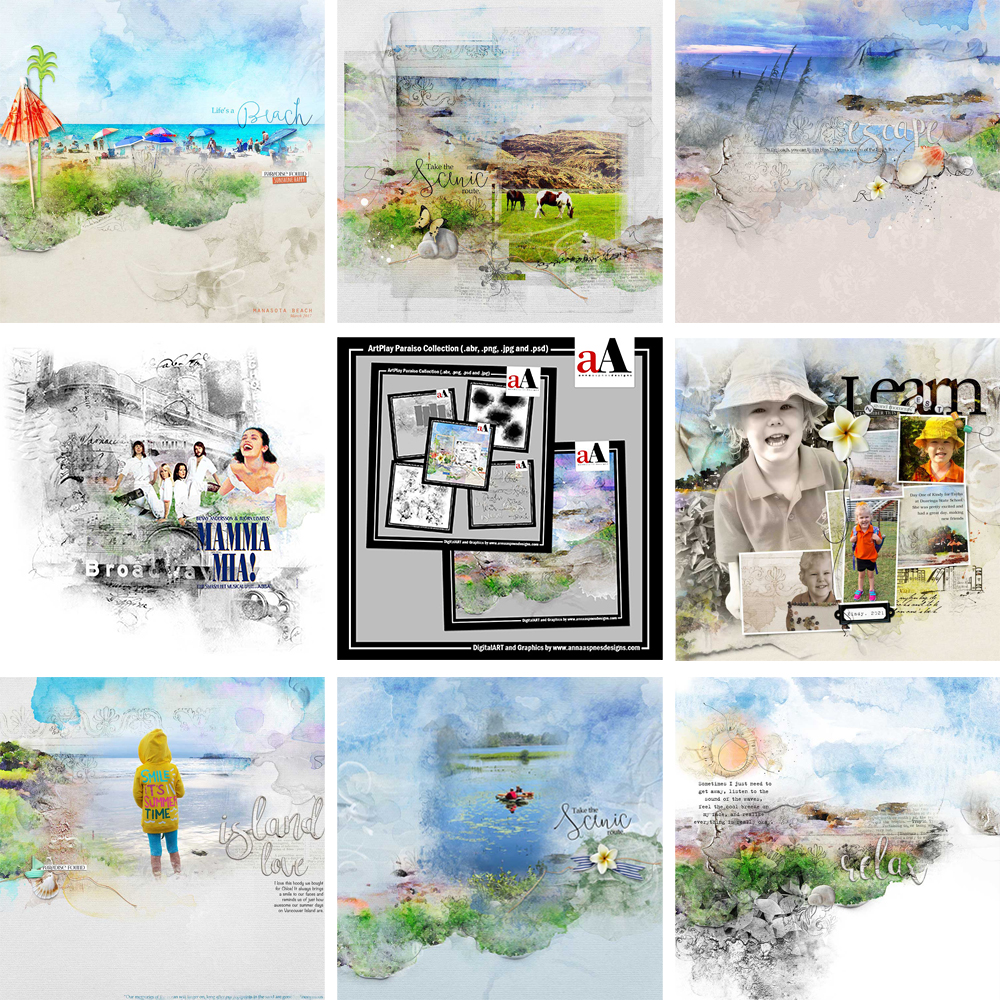 Oasis beach vacation-themed ArtPlay Paraiso Inspiration for digital scrapbooking and photo artistry in Adobe Photoshop and Elements.
The purpose of this post is to provide inspiration for using the ArtPlay Palette Paraiso and coordinating digital assets.
ArtPlay Paraiso Inspiration
1. Blend a Photo
Use an Artsy Paper and FotoBlendz mask as a quick and easy foundation for your digital scrapbooking layout design.
Use an Artsy Paper from ArtPlay Palette Paraiso to guide the Placement of your focal photo.
Position a clipping mask from Hipster Plume FotoBlendz No. 1 over the artsy paper design.
Clip your photo to the mask to Blend your photo and create a photo artistry layout design.
See also:
Useful Techniques video on the Resources page.
2. Extend a Photo
Span the same photo across multiple frames using an artsy layered template.
Open Artsy Layered Template No. 252 and place a photo so the edges Extend beyond all of the frame layers.
Move the photo layer Directly Above the first mask layer and clip the photo using the Clipping Mask Function.
Duplicate the layer, move the copy above the Next Mask Layer, and create another clipping mask.
Repeat 2 more times until ALL frames have been filled.
See also:
3. Add Color with Transfers
Use transfers to add color to black-and-white photos on your digital scrapbooking pages.
Find Transfers and Overlays in the ArtPlay Palette Paraiso and ArtsyTransfers Paraiso files.
Overlap and layer these digital elements between your Blended photos to add visual interest and color.
Notice how the color Leads the Eye into the photo artistry.
See also:
More Inspiration
Click on the images below to access complete digital design supply lists and process notes.
ArtPlay Paraiso Collection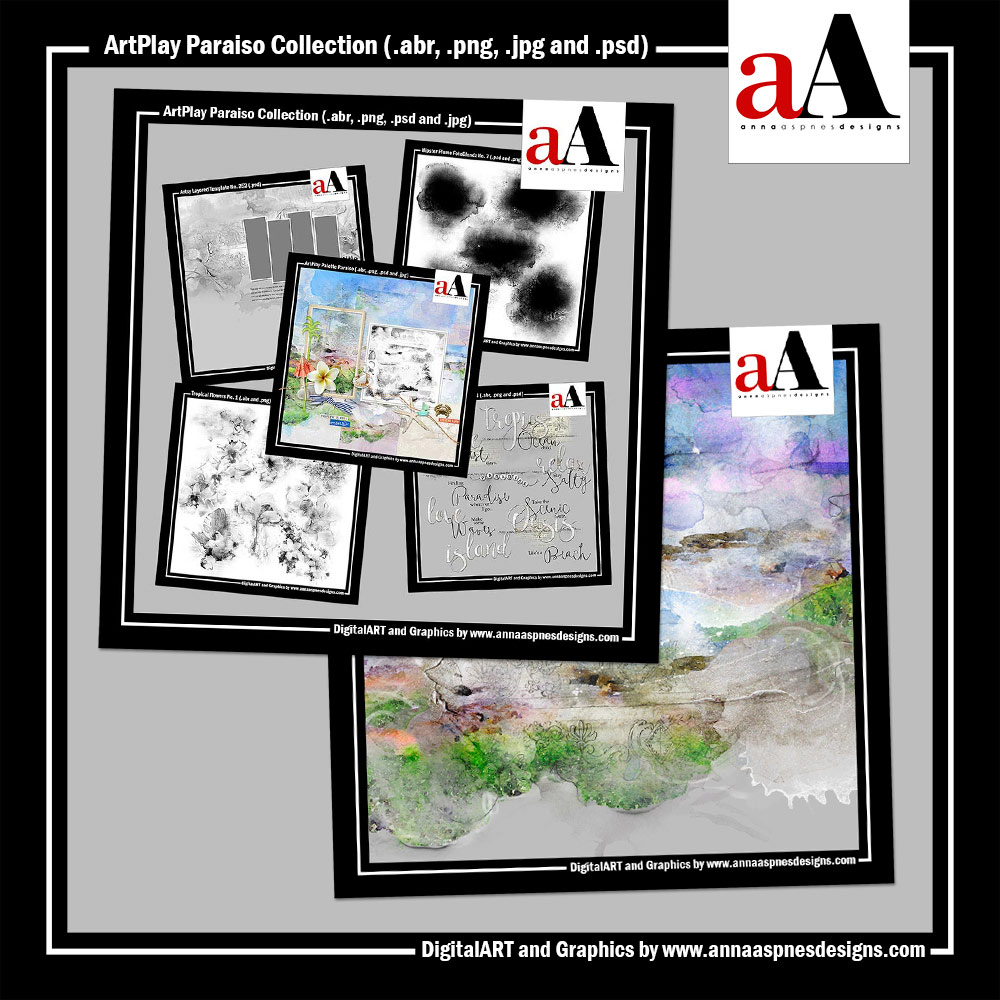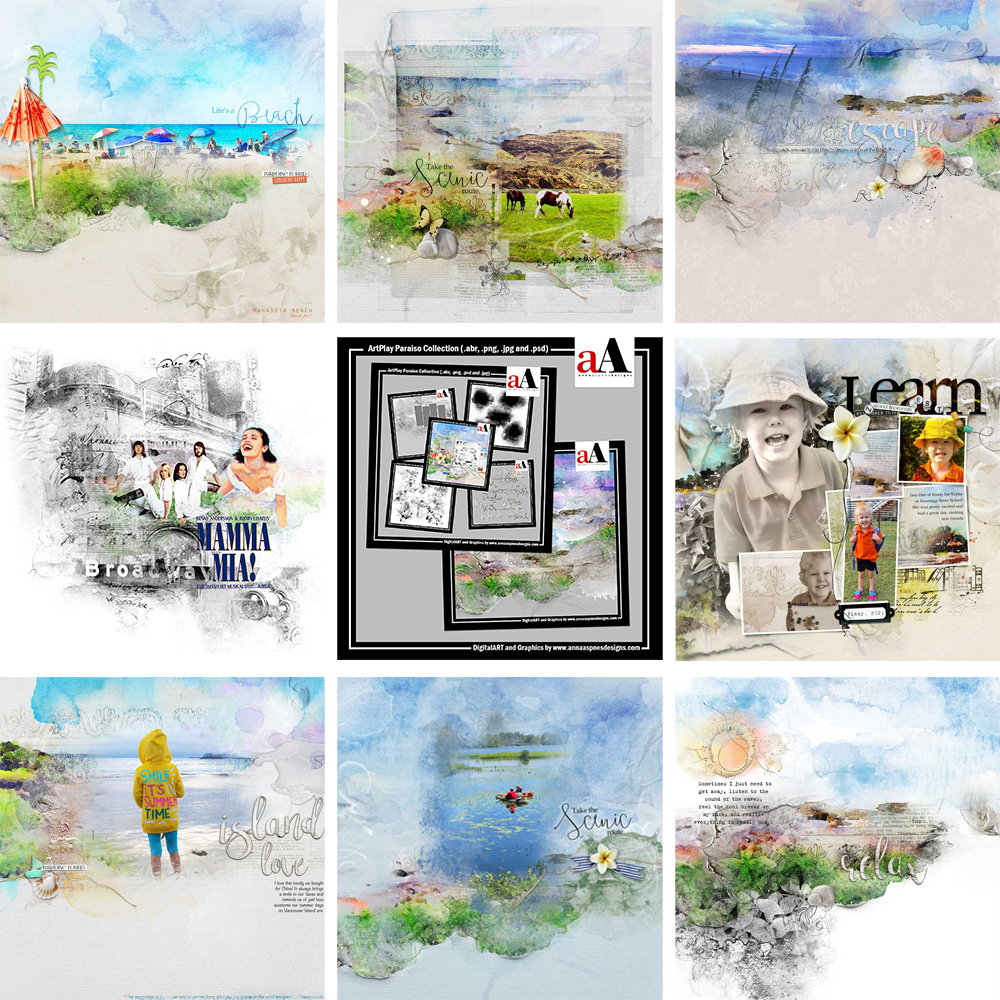 A collection of digital scrapbook and art supplies for paradise, oasis, and beach vacation-themed pages.
INCLUDES:
Want More Digital Scrapbooking and Photo Artistry Inspiration?