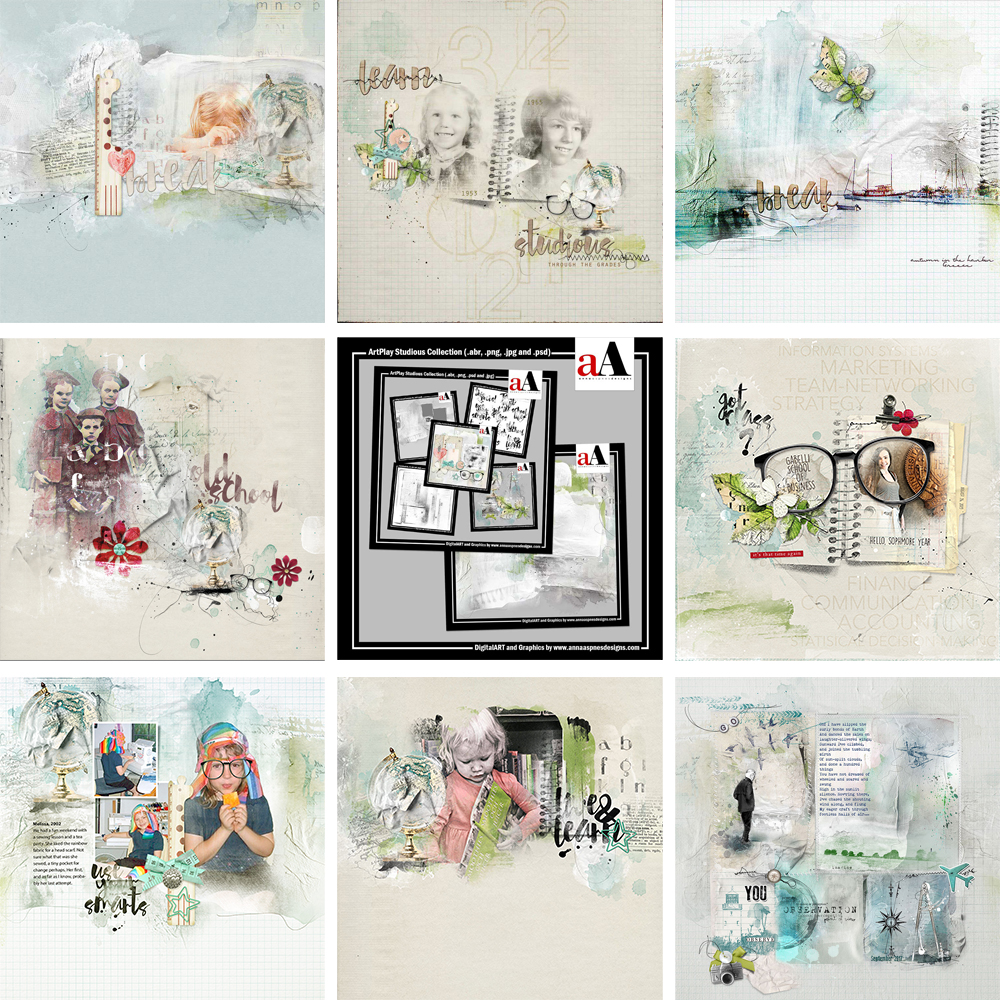 ArtPlay Studious Inspiration post for digital scrapbooking and photo artistry in Adobe Photoshop and Elements.
The purpose of this post is to provide inspiration for using the ArtPlay Palette Studious and coordinating digital assets.
ArtPlay Studious Inspiration
1. Frame With Brushes
Use Photoshop Brushes to frame and contain your blended photos in your digital scrapbooking layouts.
Mask your photos using a Layer Mask and Brushes or clip them to a FotoBlendz mask.
Load and stamp Photoshop Brushes with edges such as Notebook No. 2 to frame your photos.
Notice how this approach creates a Focal Point in your digital scrapbooking design.
SEE ALSO:
2. Brushes as Masks
Use Photoshop Brushes as a mask to blend photos in your digital scrapbooking pages.
Load and stamp ArtPlay Palette Photoshop Brushes on a New Layer in your digital scrapbooking foundation.
Open your photo and move directly about the ArtPlay Palette brush layer in the Layers Panel.
Go to Layer> Create Clipping Mask and notice how your photo conforms to the shape of the underlying ArtPlay Palette brush layer
SEE ALSO:
3. Align MultiMedia Elements
Use the artistry in your digital scrapbooking page to guide the placement of your embellishments.
Select an Artsy Paper or create your own using a Solid Paper and Transfers from the ArtPlay Palette to create an artsy digital scrapbooking foundation.
Mask your photo using a Layer Mask and Brushes or clip them to a FotoBlendz mask and apply Blending Modes to increase Visual Interest.
Align the Edges of the MultiMedia School No. 1 elements with similar Lines on your digital scrapbooking page.
SEE ALSO:
Blending Mode Magic. Blending modes applied to photos create visual interest based on the interaction of the photo properties with the color, light and tone of the underlying layers. Consider placing elements and brushwork and elements beneath your photo layers to create different effects.
More Inspiration
Click on the images below to access complete digital design supply lists and process notes.
ArtPlay Studious Collection

A SCHOOL AND BOOK-THEMED DIGITAL SCRAPBOOKING AND PHOTO ARTISTRY COLLECTION.
Includes:
Want More Digital Scrapbooking and Photo Artistry Inspiration?