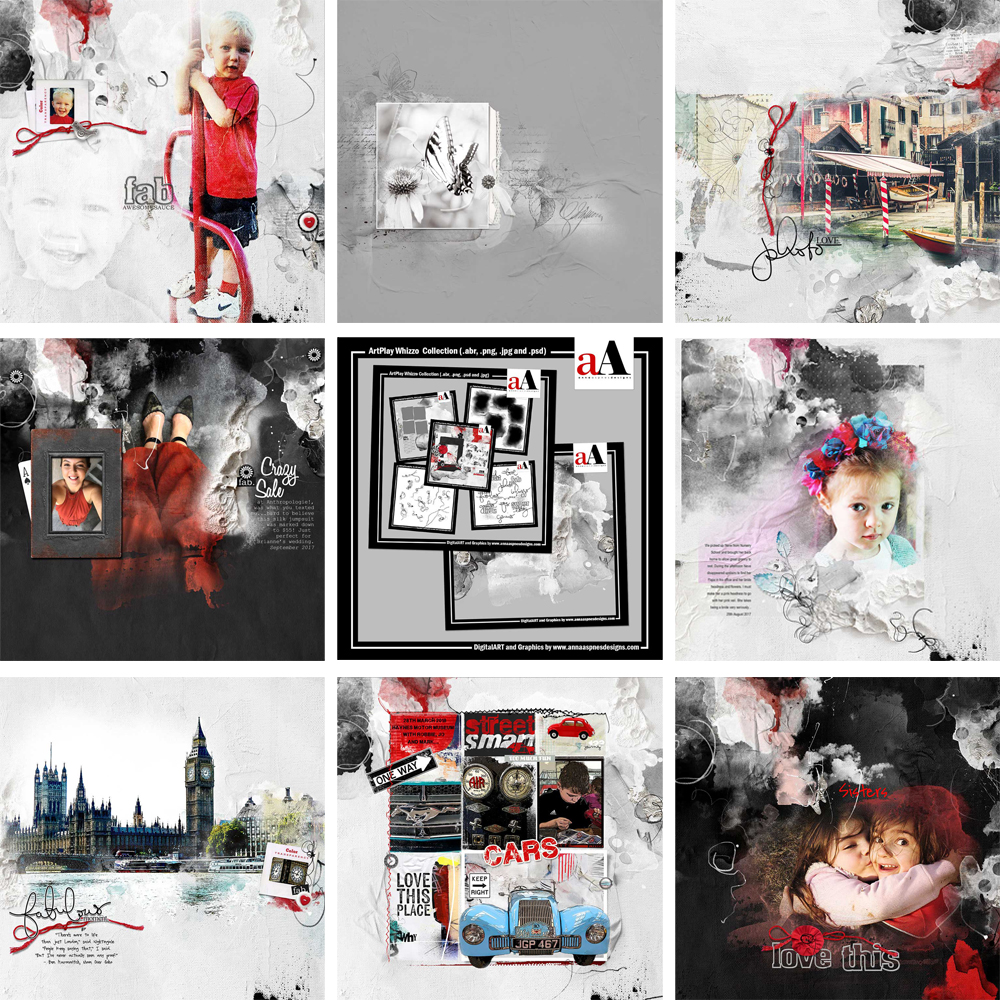 Enjoy this red, black, and white ArtPlay Whizzo Inspiration post for digital scrapbooking and photo artistry in Adobe Photoshop and Elements.
The purpose of this post is to provide inspiration for using the ArtPlay Palette Whizzo and coordinating digital assets.
ArtPlay Whizzo Inspiration
1. Combine With FotoInspired
Add your photos to a FotoInspired template and embellish with digital scrapbooking elements from the ArtPlay Whizzo Collection.
Frame your images by Clipping your photos to the masks in a FotoInspired Template.
Add transfers and digital papers from the ArtPlay Whizzo Collection to any remaining masks.
Use brightly colored Embellishments to lead the eye and create Visual Interest.
SEE ALSO:
2. Dark Background Drama
Use a dark background to add tension to your digital scrapbooking pages.
Opposing colors create Contrast and therefore Visual Interest in your photo artistry.
Notice how the Light colors 'pop' against the black background paper from the ArtPlay Whizzo Collection.
The red accent elements Lead the Eye around the digital scrapbooking design.
SEE ALSO:
3. Similarity and Contrast
Balance similar and different elements to create visual interest in your digital scrapbooking pages.
Notice Line in your photos and find similar elements to support your Focal Point.
The red string is similar in Shape and Color, but the Direction of line is different to yield contrast.
These subtle shifts in Element Properties allow you to create with confidence.
SEE ALSO:
More Inspiration
Click on the images below to access complete digital design supply lists and process notes.
ArtPlay Whizzo Collection
A BOLD DIGITAL SCRAPBOOKING AND PHOTO ARTISTRY COLLECTION PERFECT FOR LIVING AND LOVING LIFE.
Includes:
Want More Digital Scrapbooking and Photo Artistry Inspiration?