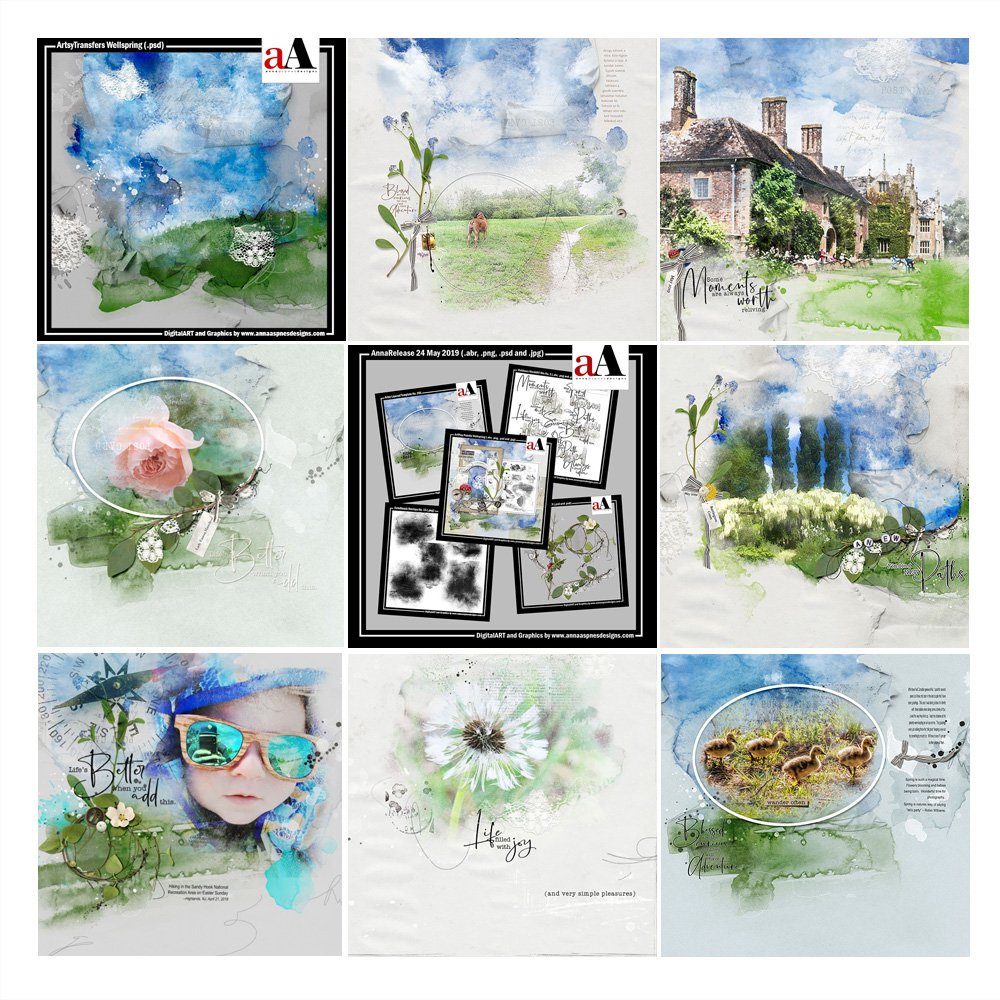 Happy Monday! Today we're sharing ArtPlay WellspringInspiration for digital scrapbooking, photo artistry and photo manipulation in Adobe Photoshop and Elements.
This post is intended to give you guidance on using ArtPlay Palette Wellspring, ArtsyTransfers and co-ordinating digital assets
Click on the image below to view more ArtPlay Wellspring Inspiration or visit the AnnaTeam Layouts board on Pinterest.
ArtPlay Wellspring Inspiration
The aA Creative Team members have been making the magic happen with NEW DigitalART products at Anna Aspnes Designs.
More digital designs inspiration can be located in the AnnaGallery and the AnnaTeam Layouts board on Pinterest.
See our Gallery Highlights by clicking on the images to access complete digital design supply lists.
You will also find process notes and digital scrapbooking tutorials from each team member to provide new digital inspiration for using aA DigitalART designs.
1. Create Framed Focus
Lead the eye to a specific area of your photo using a frame.
Margo used a colored portion of her photo to Highlight the area of interest and guide the placement of the frame.
Notice how she also placed the elements to Lead the eye in a horizontal page design as well as the UrbanThreadz around the frame.
I also love the placement and Shape of her text in this digital scrapbooking layout design.
See also:
2. Blend with Clipping Masks
Clip your photo to a FotoBlendz clipping mask to quickly and easily blend your photo in to your digital scrapbooking layout.
See also:
3. Spill Your Photos
Create this 'photo spilling' effect in your digital scrapbooking and photo artistry using Clipping Masks and Frames.
Place a FotoBlendz mask BELOW the frame layers in the Layers Panel.
Clip your photo to the mask layer and customize with brushes as preferred.
Duplicate the image for each frame and clip to the frame's clipping masks.
See also:
4. Additional Photos
Place supporting photos in frames to embellish your blended photos in your digital scrapbooking and photo artistry.
Diane clipped her Focal Photos to the FotoBlendz Overlay masks in her double-page layout.
Supporting photos were clipped to duplicate copies of the ArtPlay Palette frame.
Notice how this adds Visual Interest to her digital scrapbooking page.
See also:
5 Ways to Use Elements in Non-Square Layouts
5. Align Element Cluster
Place a MultiMedia element along the edge of your blended photo to create focus in your digital scrapbooking and photo artistry.
The principle of Alignment yields pleasing arrangement of elements in your digital scrapbooking pages.
Notice how placing the element close to the photo adds Visual Weight to the Focal Point.
Therefore Leads thing Eye the eye to the blended photo.
See also:
6. Combine ArtPlay Collections
Use multiple ArtPlay Palettes to create your digital scrapbooking and photo artistry layout designs.
See also:
7. Artsy Paper Landscapes
Use an Artsy Paper as the background to your focal photo in your digital scrapbooking pages.
Notice how the Digital Paper creates a 'landscape' background to her photo artistry.
The artistry also lends Color to her black and white photo.
As always, Michelle 'knocks it out of the park' with a striking WordART element cluster.
See also:
8. Inject Bright Color
Don't be afraid to use brightly colored photos in your artistry.
Provide a Color Buddy to any bold colors that stand out in your digital scrapbooking pages.
Notice how Laura has recolored a Splatter element to pair with the bright pink in her photo.
This approach helps to create a more Coordinated layout design.
See also:
9. Travel Artistry
Create photo artistry and digital scrapbooking layouts with your travel and vacation images.
See also:
ArtPlay Wellspring Collection
INDIVIDUAL PRODUCTS IN THIS SERIES:
ALSO AVAILABLE:
Note that the 'Bundled' collection is available at Limited Times throughout the year.
Want More Digital Scrapbooking and Photo Artistry Inspiration?
EMAIL ME AT ANNA AT ANNAASPNESDESIGNS.COM OR POST IN THE COMMENTS BELOW.