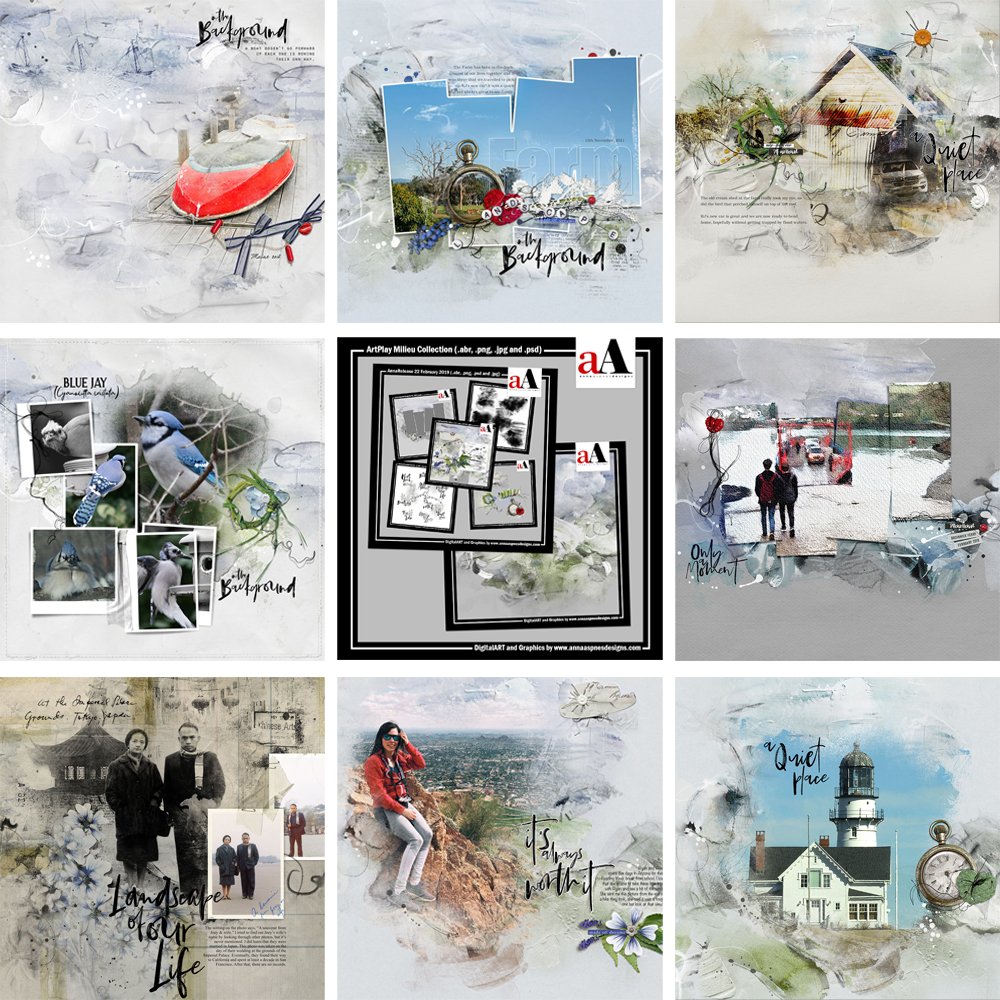 Inspiration for using the ArtPlay Milieu Inspiration for digital scrapbooking and photo artistry in Adobe Photoshop and Elements.
This post is intended to give you guidance on using ArtPlay Palette Milieu, ArtsyTransfers and co-ordinating digital assets.
ArtPlay Milieu Inspiration
1. Lead with Color
Choose a photo with colors that coordinate with those in the ArtPlay Palette.
Let your photo(s) Guide your photo artistry or digital scrapbooking design decisions.
Look beyond Theme and Motif by focusing on Color.
Notice how Joan has selected a water photo to co-ordinate with the in ArtPlay Palette Milieu to create Cohesion in her artsy digital scrapbooking layout.
SEE ALSO:
2. Hide Template Layers
Turn off the visibility of layers to modify any artsy layered template.
Click on the Eye icon to the left of any layer in the Layers Panel to turn Visibility on/off.
This enables you to Change the Template to customize your digital scrapbooking or photo artistry pages.
Notice how Viv turned off the frame layers in Artsy Layered Template No. 286 and paired the effect with a Smartphone App edit to elevate Visual Interest in her layout design.
SEE ALSO:
3. Contrasting White Space
Place your artistry along the top of your digital scrapbooking page in a linear design.
Establish Contrast by juxtaposing White Space with your photo artistry layout design.
Opposition is a great way to add visual interest via Tension into an artsy digital scrapbooking layout or digital artistry page.
Notice how Ulla-May has used the white space at the bottom of her layout to Contrast with the artistry at the top the page.
See also:
More Inspiration
Click on the images below to access complete digital design supply lists and process notes.
ArtPlay Milieu Collection
INCLUDES:
See also the following tutorial:
Want More Digital Scrapbooking and Photo Artistry Inspiration?