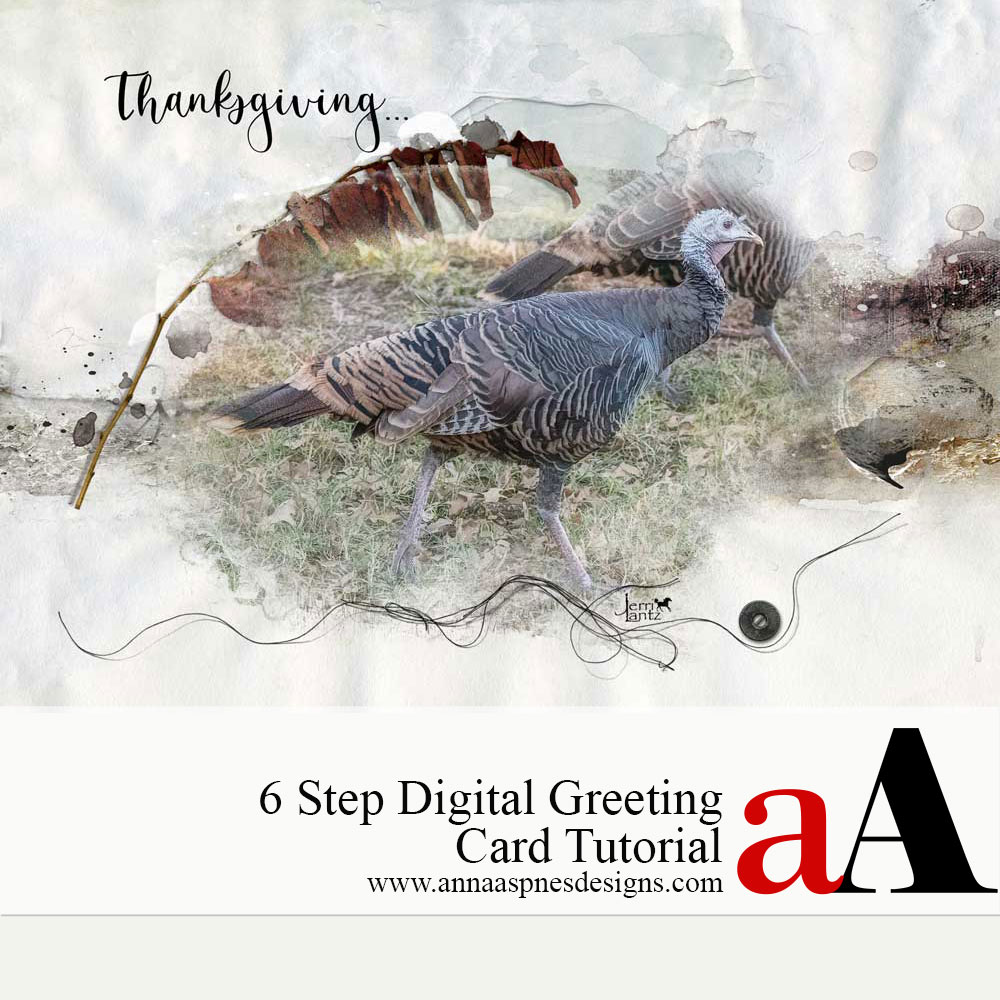 Today Jerri Lantz is sharing her 6 Step Digital Greeting Card Tutorial.
6 Step Digital Greeting Card Tutorial
Introduction
Use your favorite photos with digital artistry to Create a Personalized Digital Greeting Card.
Extend your Photoshop skills beyond digital scrapbooking and photo artistry.
Share your love of photos with family and friends.
Blend your images with

a

A

DigitalART to create a personalized greeting for the the holidays.
1. Plan To Print
Decide where and how you will print before creating your Personalized Digital Greeting Card
Print at home or find a vendor on-line that prints creating cards.
Choose from their custom card options in terms of Size and Type.
Jerri prefers 5 x 7 inch folded cards and waits for a coupon to print at Walgreens.
Create a New Layout in the Size of your chosen card.
Tip.
Subscribe to different vendors to be informed of available coupons and specials.
2. Establish Focal Point
Build your design around your primary area of interest.
The Focal Point could be:
A photo
Scanned image/memorabilia
A favorite quote
Pictorial BrushSet image
MultiMedia element.
Note.
Jerri likes to start her design with a quote or a photo, and using this as the Foundation of her layout design.
For this Thanksgiving card, one of her wild turkey hen photos was chosen.
3. Add the Image
Establish how you will add the Focal Point to your greeting card.
Clip you photo (or scanned image) to a FotoBlendz clipping mask and position over the card Foundation/Background.
Arrange your Words  or MultiMedia element layers in the card design.
Stamp a pictorial image from a BrushSet onto a New Layer.
Notes/Tips.
Learn how to clip a photo to a MultiLayered FotoBlendz clipping mask in this video.
Ideas for adding Words to your layouts
Take this FREE class for guidance on using BrushSets.
Edit your photo AFTER it has been clipped to the mask.
Adjustments may include changes to Size, Brightness or Contrast.

4. Mat Your Focal Point
Select or create a foundation or background to support the focal image
Note.
In this greeting card design an Artsy Paper from ArtPlay Palette Fernweh was selected to support the earthy Color tones in the image.
The paper design was Resized and placed BEHIND the blended photo to best support the artistry.

5. Embellish Your Card
Select digital elements that support the Theme and Colors in your greeting card layout design.
Elements might be:
Suggestive of the Season.
Enhance the Subject matter of the Focal Point.
Create Visual Interest in the card design.
Notes/Tips.
Use ready-made clustered MultiMedia elements to add instant Visual Interest to your card design.
Consider placing your elements above OR below your card Focal Point.
Use Stitching to Lead the Eye and add Texture to your digital design.
6. Add Text
Add your Greeting to the front and inside of the card.
Choose a WordART element for the front of the card.
You can also use the Type Tool with the Font of your choice to create your own.
Add additional digital elements to the inside of the card with a quote of your choice.
Note.
Save your card as .jpg format file and upload to your chosen vendor for printing.
Digital Supplies
Find a complete of aA DigitalART supplies for this digital card project here.
Summary
You can create a personalized greeting card design following these simple steps:
Decide how you will Print your card then create a New Digital Layout design according to those parameters.
Choose a Focal Point, around which you will build your design using

a

A

DigitalART supplies.
Enhance your subject using a variety of embellishments to add Visual Interest.
Add your Sentiment before saving your card and sending to print.
See also:
If you like this 6 Step Digital Greeting Card Tutorial post, we invite you to create your own personalized greeting card design and share in the AnnaGallery.