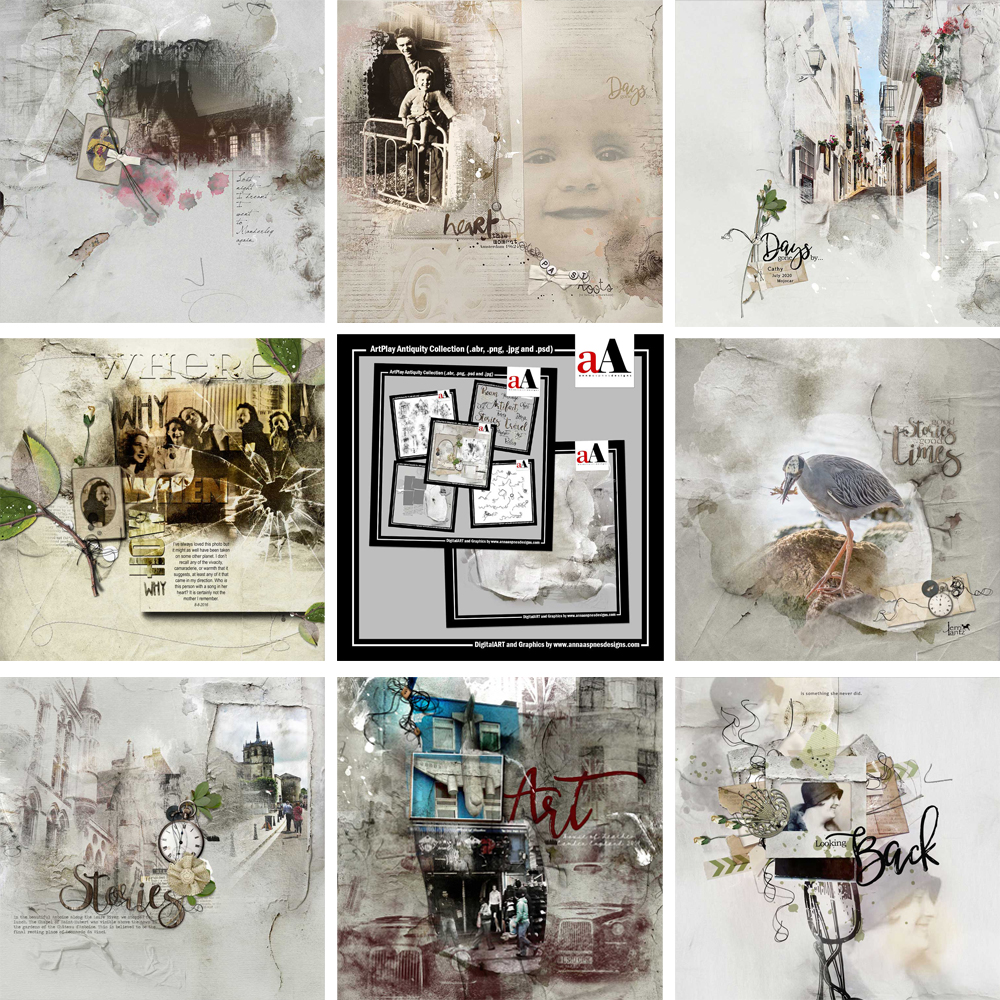 Outdoor adventures in scenic landscaped-themed ArtPlay Antiquity Inspiration for digital scrapbooking and photo artistry in Adobe Photoshop and Elements.
The purpose of this post is to provide inspiration for using the ArtPlay Palette Antiquity and coordinating digital assets.
ArtPlay Antiquity Inspiration
1. Extend a Photo
Clip your photo to different types of masks to span your image with visual interest across your digital scrapbooking layout design.
The photo was 'clipped' to one of the mask layers in Artsy Layered Template No. 230 using the Clipping Mask Function in Adobe Photoshop Elements.
A copy of the Same photo was then clipped to the frame mask layer in the middle to create a Focal Point for her photo artistry layout design.
The brighter colors and variation in Blending yield tension in her collage-style digital scrapbooking page.
SEE ALSO:
1. Embellishment Special Effects
Think 'outside the box' and use different techniques when adding elements to your digital scrapbooking layout design.
Instead of using a Drop Shadow Layer Style try applying Blending Modes to the dimensional elements from the ArtPlay Palette Antiquity.
The clock face becomes Transparent when a Color Burn, Multiply, or Hard Light Blending Mode is applied.
We also love how Miki has stamped her UrbanStitchez No. 11 in white instead of the expected black format.
SEE ALSO:
3. Layered Paper Focus
Lead the eye to your photo focal point using a variety of paper elements and layers in your digital scrapbooking page
Frame your photo using the frame from the ArtPlay Palette Antiquity.
Place elements at varying Angles around the frame to enlarge the Focal Point.
Use different types of elements from the ArtPlay Antiquity Collection and apply Drop Shadow Layer Styles to create dimension.
SEE ALSO:
More Inspiration
Click on the images below to access complete digital design supply lists and process notes.
ArtPlay Antiquity Collection
AN AGED DIGITAL SCRAPBOOKING AND PHOTO ARTISTRY COLLECTION PERFECT FOR TRAVEL AND HERITAGE.
Includes:
Want More Digital Scrapbooking and Photo Artistry Inspiration?