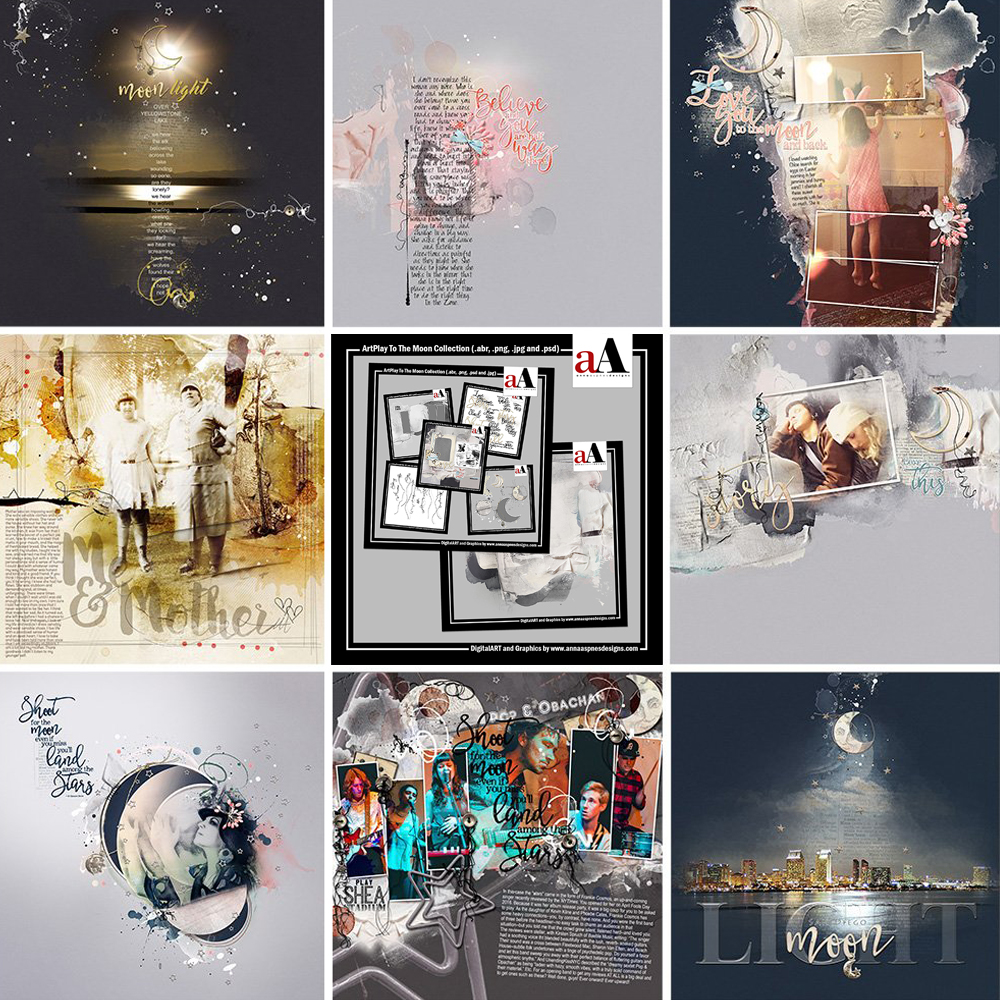 ArtPlay To The Moon Inspiration for digital scrapbooking and photo artistry in Adobe Photoshop and Elements.
This post is intended to give you guidance on using ArtPlay Palette To The Moon and co-ordinating digital assets.
ArtPlay To The Moon Collection
1. Extend Your Subject
Use the MultiMedia Moon elements as an extension of your subject in your photo artistry pages.
Create an Extraction to remove the background of your image by following this Create Extractions and Cast Shadows.
Anchor the photo to your digital scrapbooking design by using an element from MultiMedia Moons No. 1 as your foundation.
Notice how the element provides context to your photo artistry and aids in Telling the Story.
See also:
Further guidance on creating extractions can be found in

a

A

Project 2022.
2. Balance and Contrast
Use a dark colored paper to blend a night photo and embellish with contrasting digital art elements.
Blend a night 'cityscape' photo onto the dark colored solid background paper in ArtPlay Palette To The Moon using the Inverted Masking technique outlined in Master Custom Blending.
Add sparkle and Support Your Theme using elements from MultiMedia Moons No. 1 in your digital scrapbooking page.
Notice the elegant central placement of the moon and title work by Joan Schaefer to create an interesting Linear Design approach to her photo artistry.
See also:
3. Span Your Photo
Extend your photo across multiple frames to showcase a image in your digital scrapbooking page.
Extend Your Photo across multiple frames and masks in Artsy Layered Template No. 225.
Position your image across ALL frames then Clip Your Photo to the first framed mask in the template.
Duplicate your photo and then repeat with all other frame masks in the template.
See also:
More Inspiration
Click on the images below to access complete digital design supply lists and process notes.
ArtPlay To The Moon Collection
A COLLECTION OF MOON AND STAR THEMED DIGITAL ART AND SCRAPBOOK SUPPLIES BY ANNA ASPNES DESIGNS FOR A VARIETY OF PHOTO ARTISTRY PAGES.
INCLUDES:
See this tutorial:
Want More Digital Scrapbooking and Photo Artistry Inspiration?