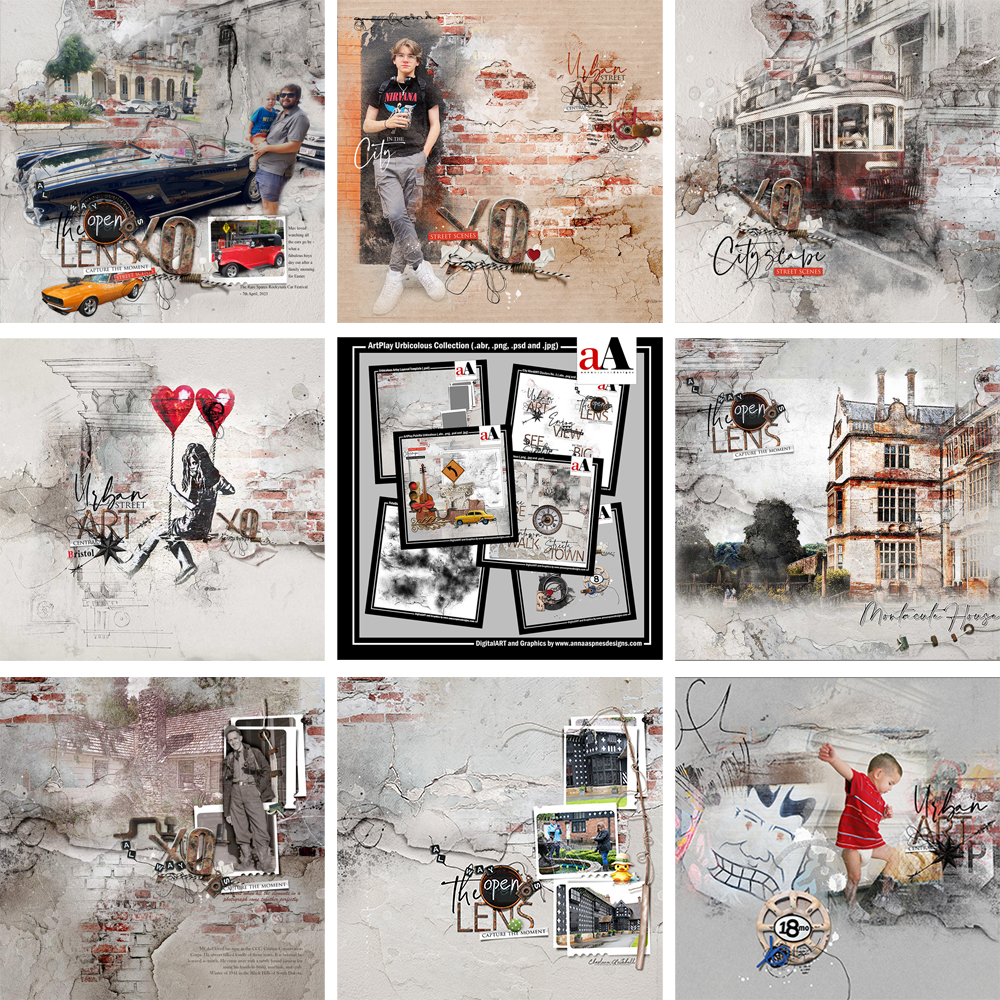 City and urban art-themed ArtPlay Urbicolous Inspiration for digital scrapbooking and photo artistry in Adobe Photoshop and Elements.
The purpose of this post is to provide inspiration for using the ArtPlay Palette Urbicolous and coordinating digital assets.
ArtPlay Urbicolius Inspiration
1. Extend with Embellishments
Enhance the subject matter of your photo in your digital scrapbooking and photo artistry pages with embellishments.
SEE ALSO:
2. Mask with FotoBlendz
Use the larger-size FotoBlendz Overlays clipping masks to blend your photos into your digital scrapbooking and photo artistry layouts.
Choose an Artsy Paper from ArtPlay Palette Urbicolousor create your own using a Solid Paper with the Transfers and Overlays.
Place a clipping mask from FotoBlendz Overlays No.22 and then a photo of choice on top of your chosen digital scrapbooking layout foundation in the Layers Panel.
Select the photo layer in the Layers Panel and go to Layer> Create Clipping Mask so that the photo conforms to the shape of the underlying mask layer.
SEE ALSO:
3. Customize with Color
Modify and add colorful elements to support the photo hues in your digital scrapbooking and photo artistry pages.
Recolor elements using Image> Adjustments> Hue and Saturation (Photoshop) of Enhance> Adjust Color> Hue and Saturation (Elements.)
Notice how Susan has recolored the MultiMedia City No. 1 suede cord from blue to pink and added a bronze tone to the metal word from the City WordART Clusters No. 1
The use of FotoGlows adds light and saturation to the Focal Points of her artsy digital scrapbooking page.
SEE ALSO:
Useful Techniques video on the Resources page.
a

A

Inspired Urbicolous Video

Watch the LIVE session REPLAY HERE
More Inspiration
Click on the images below to access complete digital design supply lists and process notes.