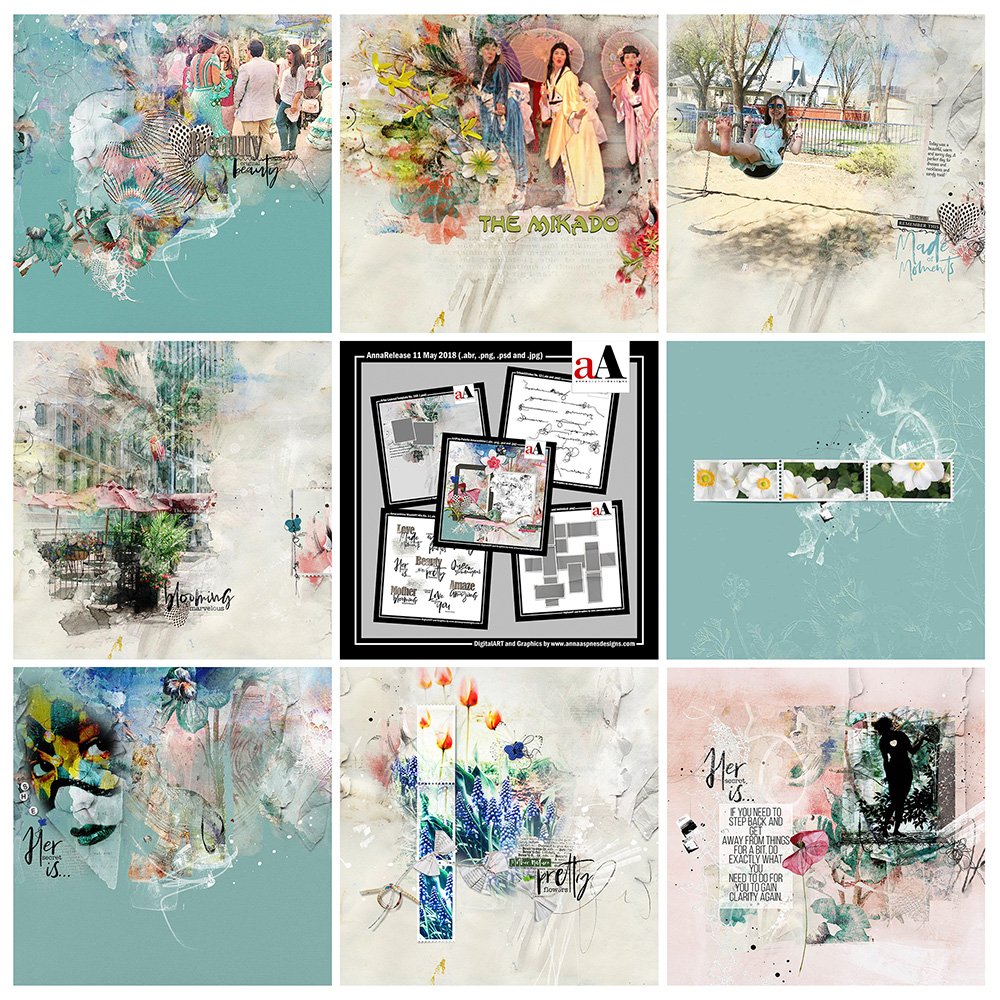 Inspiration for using the ArtPlay Amaranthine Collection for digital scrapbooking and photo artistry in Adobe Photoshop and Elements
This post is intended to give you guidance on using ArtPlay Palette Amaranthine, ArtsyTransfers and co-ordinating digital assets
ArtPlay Amaranthine Inspiration
More ArtPlay Amaranthine Inspiration  can be located in the AnnaGallery and the AnnaTeam Layouts board on Pinterest.
See our Gallery Highlights by clicking on the images to access complete digital design supply lists.
You will also find process notes and digital scrapbooking tutorials from each team member to provide new digital inspiration for using aA DigitalART designs.
ArtPlay Amaranthine Collection
1. Document Mom (or Dad)
Tell a story about a Mother in your next photo artistry or digital scrapbooking design.
See also:
2. Create with Small Photos
Create a digital scrapbooking or photo artistry layout with a smaller photo focal point and yield depth with white space.
It is generally accepted that large photos Deliver greater impact in a page but the reverse can also be true.
A smaller Focal Point creates more White Space to allow image to breather and create a comparative perspective.
Notice the how the artistry in this digital scrapbooking design supports her photo by Adding to the landscape.
See also:
3. Celebrate Flowers
The ArtPlay Amaranthine Collection is perfect for celebrating flower photos in your digital scrapbooking or photo artistry layout designs.
Take some photos of a recently gifted bouquet, a blossoming favorite in your garden or a Story about a particular flower.
The floral motif in Amaranthine is perfect for Blending with flower photos.
We love the 'pop' of teal paint behind the title to create Tension and Lead the Eye.
See also:
More Inspiration
Click on the images for complete digital supply lists plus process notes:
See also:
ArtPlay Amaranthine Collection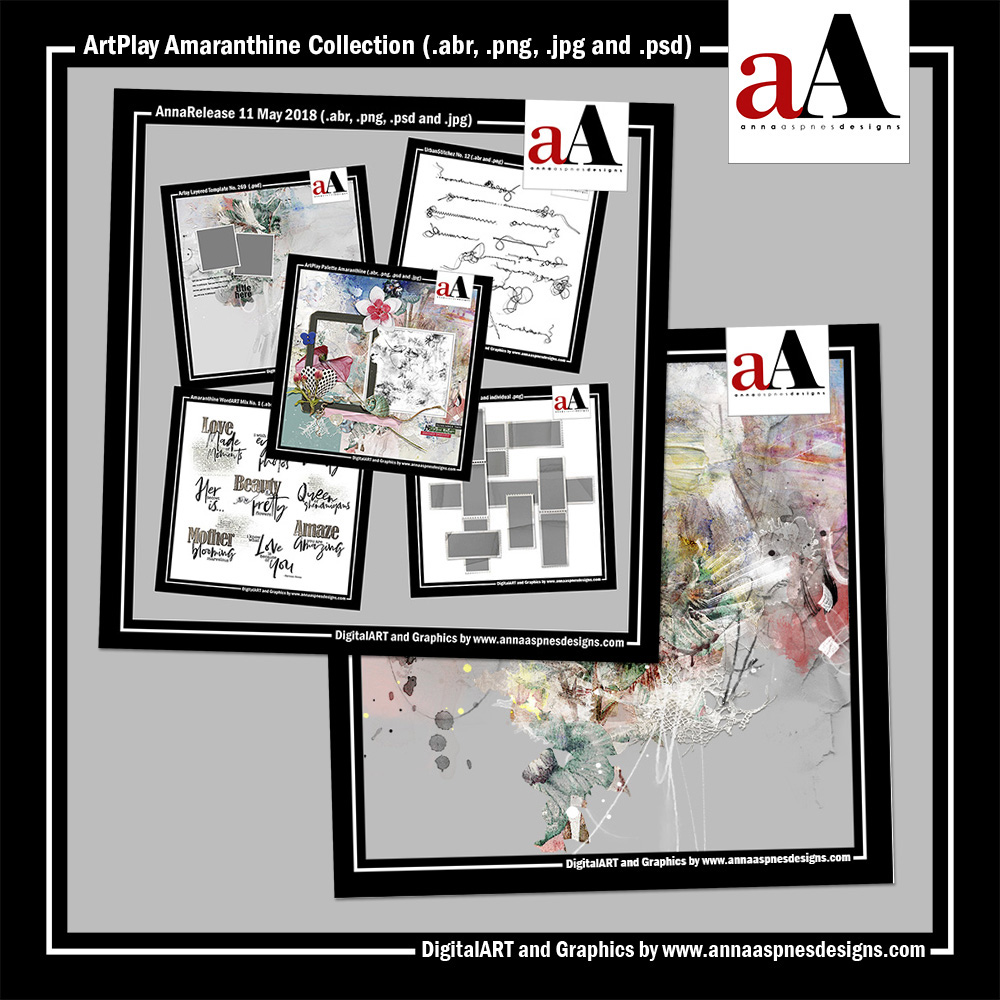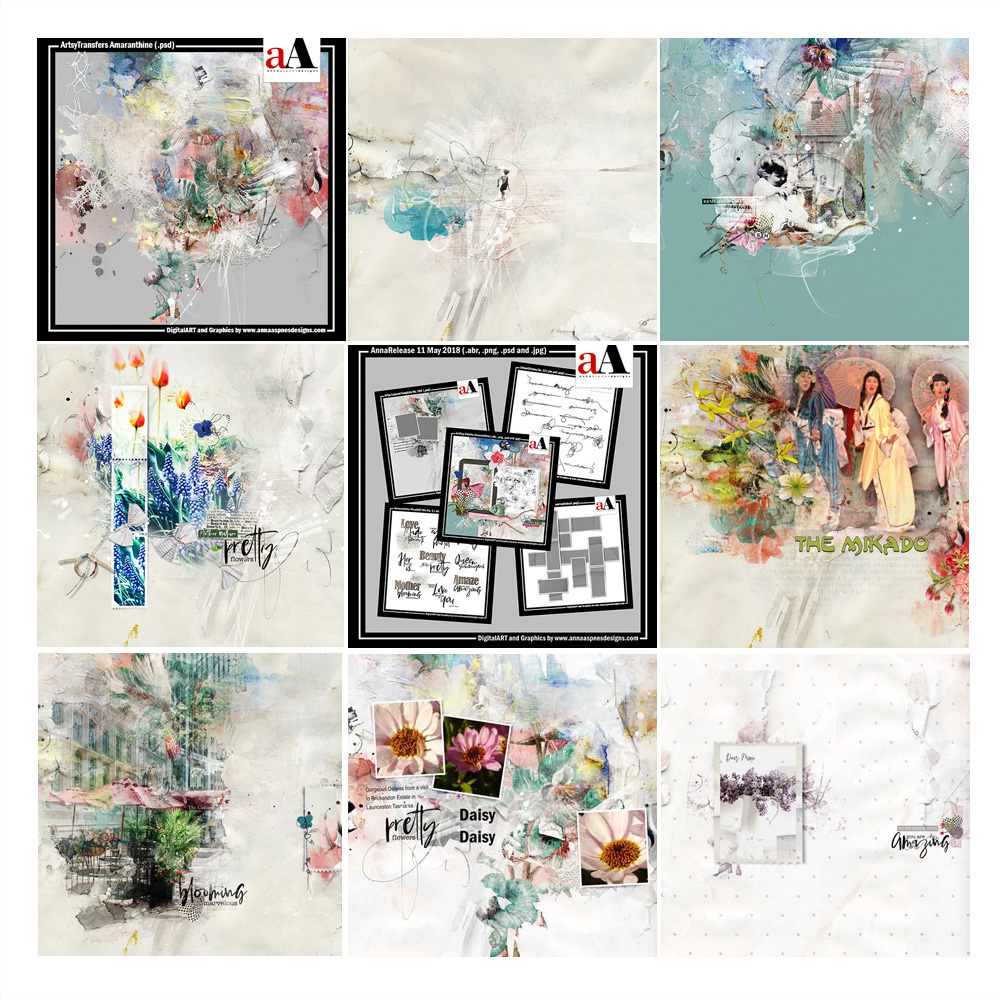 INDIVIDUAL PRODUCTS IN THIS SERIES:
NOTE THAT THE 'BUNDLED' COLLECTION IS AVAILABLE AT LIMITED TIMES THROUGHOUT THE YEAR.
Want More Digital Scrapbooking and Photo Artistry Inspiration?
EMAIL ME AT ANNA AT ANNAASPNESDESIGNS.COM OR POST IN THE COMMENTS BELOW.