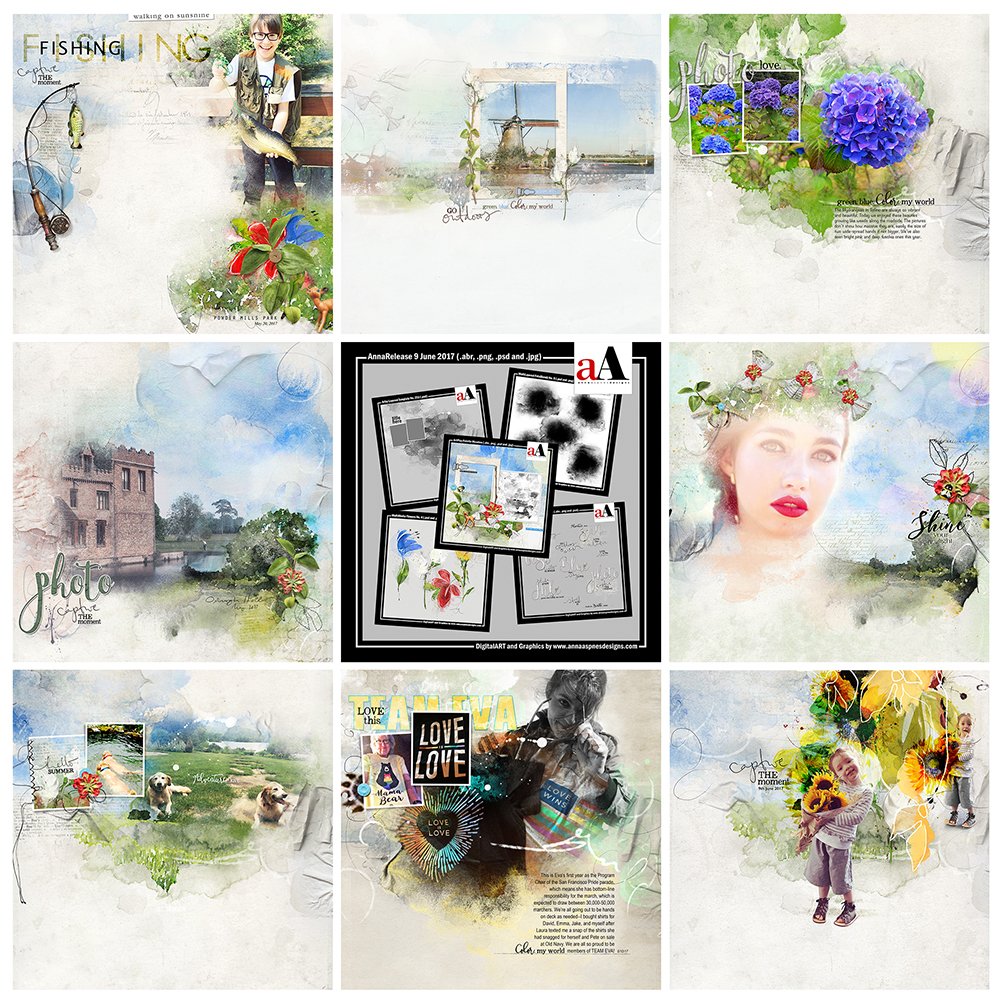 Happy Monday! Today we're sharing digital designs inspiration Meadow.
AnnaRelease Meadow is the newest collection of digital designs for scrapbookers, photographers, artists and crafters to be released into the Anna Aspnes Designs store.
This outdoors inspired release showcases summery colors and watercolor motifs.
AnnaRelease Meadow
The aA Creative Team members are getting artsy using the new ArtPlay Palette Meadow and supporting DigitalART products.
More digital designs inspiration Meadow of course, can be located in the AnnaGallery.
Note that the AnnaRelease bundled option is available for ONE week only.
Click on the image below to view more digital designs inspiration 'Meadow' or visit the AnnaTeam Layouts board on Pinterest.
Digital Designs Inspiration Meadow
See our Gallery HighLights by clicking on the images to access complete digital design supply lists. You will also find process notes and digital scrapbooking tutorials from each team member to provide new digital inspiration for using aA DigitalART designs.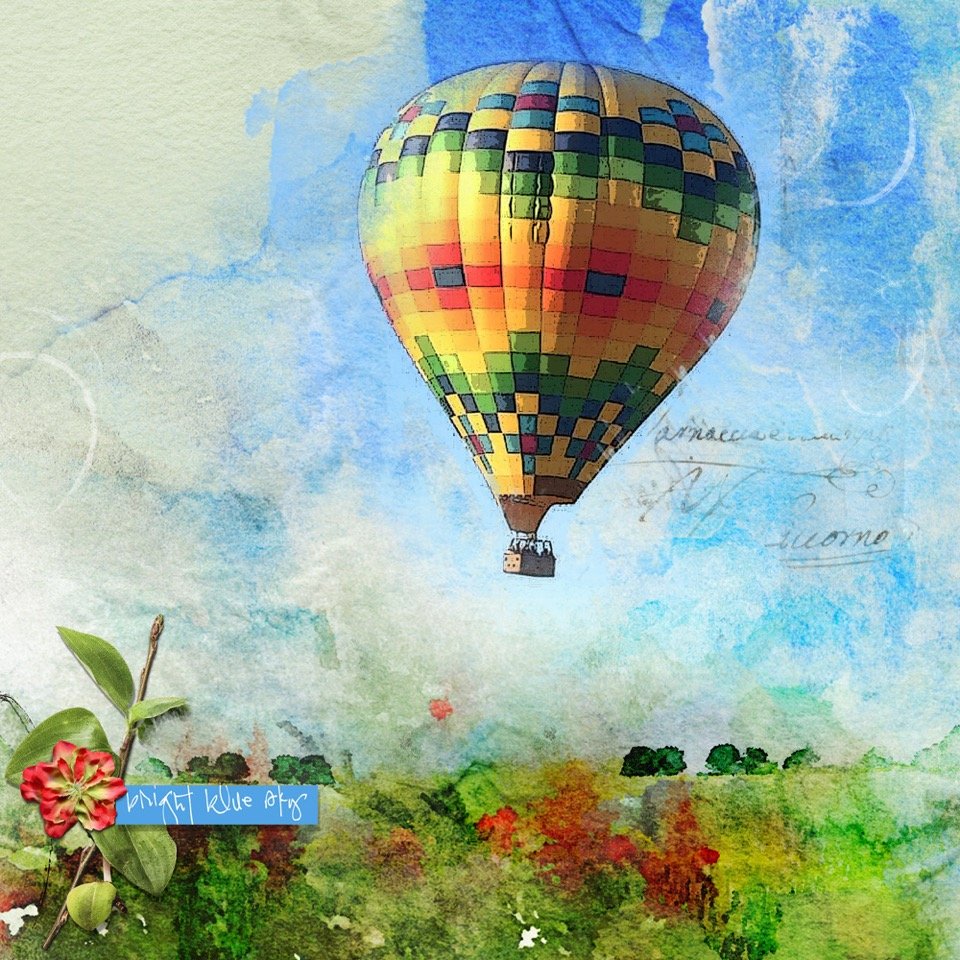 Up & Away | Christy
Watercolor Effects.
Apply a filter to your photo to yield a painterly effect before blending and pairing your image with one of the artsy papers in ArtPlay Palette Meadow.
You can do this by applying multiple filters in Photoshop following this Water Color Effect tutorial.
See also this Watercolor Painting Effect tutorial, or the presentation on using Topaz Labs, in the REPLAY of  ArtPLAY UnEdited LIVE.
Consider also using a phone app to process your photos before you import them into Photoshop.
Then simply blend your photo into the background by clipping the image to a FotoBlendz clipping mask or blending with brushes and apply seamless watercolor edges.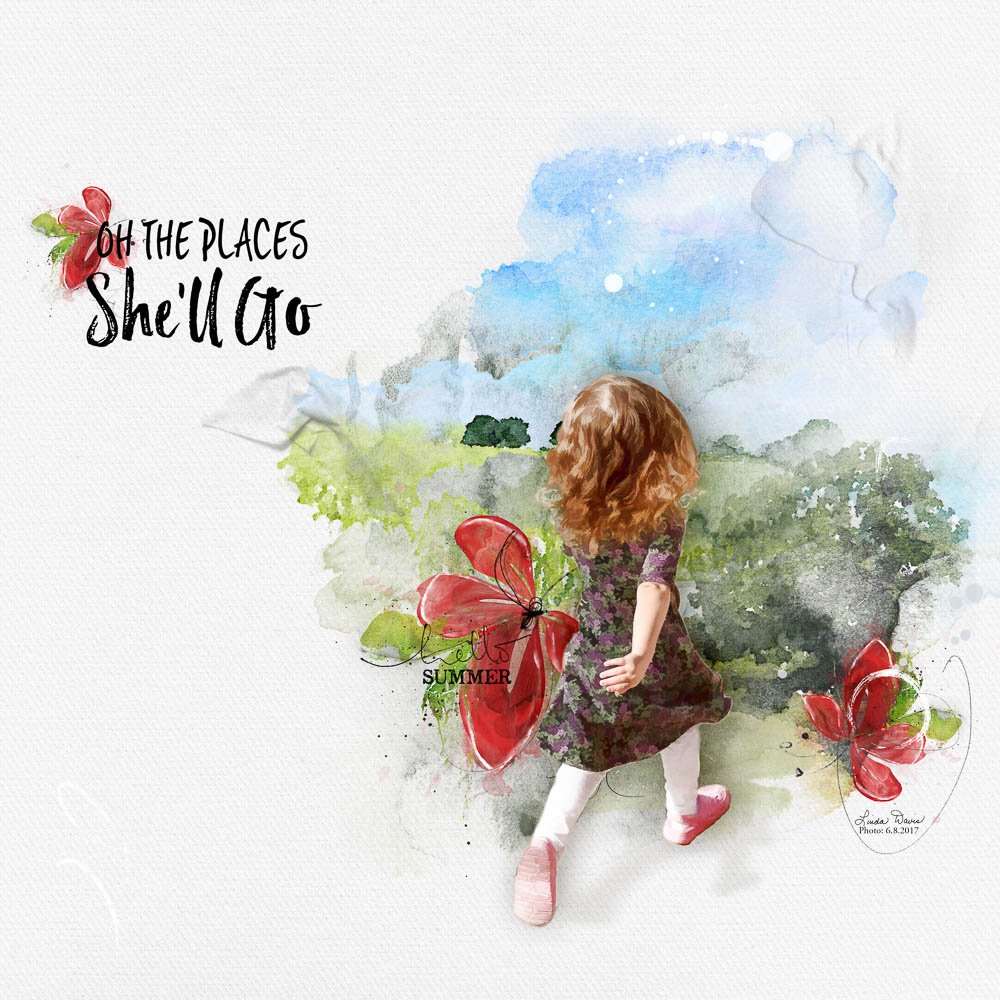 Oh the Places She'll Go | Linda
Modify Your Elements.
Use the same element multiple times but vary the size and rotation to create a level of variation in your design.
Notice how Linda has used the same red flower element from MultiMedia Flowers No. 4 3 different times, but has created visual interest by altering the size and rotation of each element using the Transform tool in Adobe Photoshop and Elements.
Learn more about this principle in this video tutorial.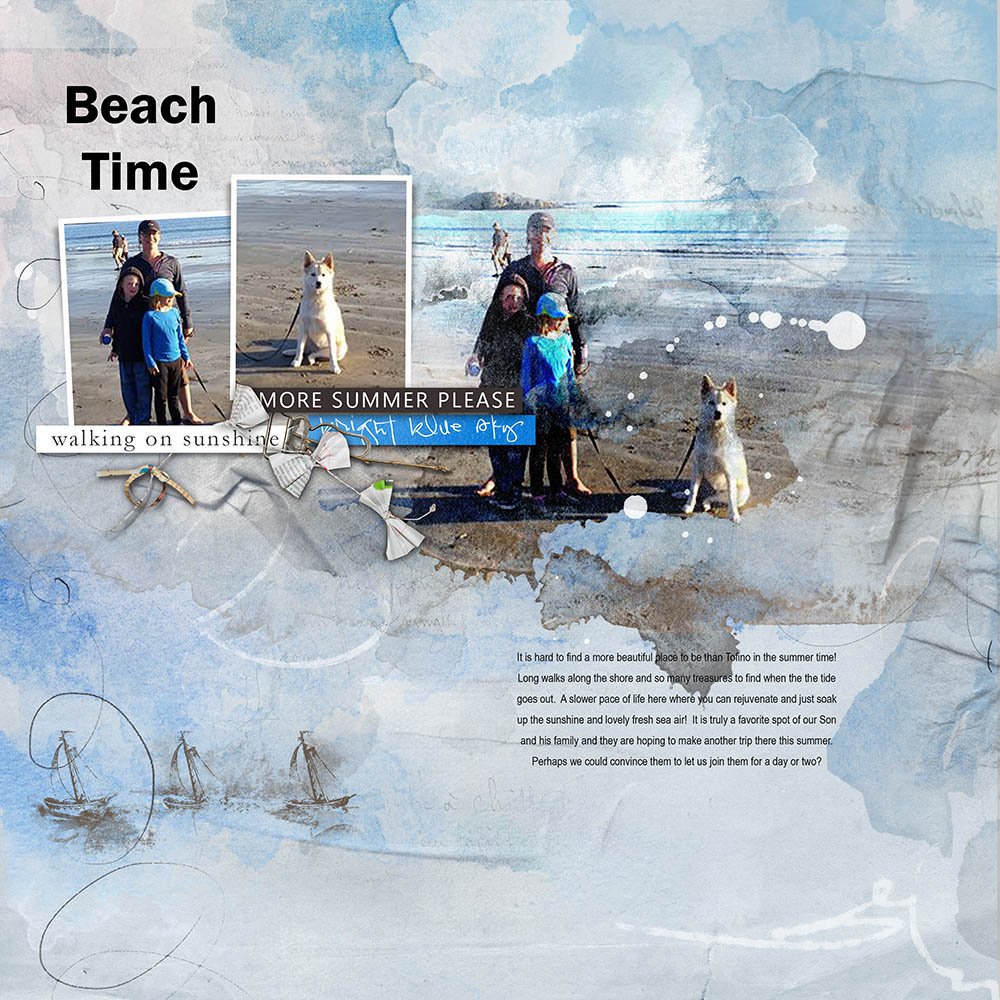 Beach Time | Trudy
Traditional Artsy Approach.
Add a little traditional to your artsy layered with some dimensional embellishments to mimic some of the motifs found in paper scrapbooking.
Notice how the straight lines and sharp corners of the LabeledWords and Frames in the Artsy Layered Template creates Tension in the design, which excites the eye and add an unexpected component to the layout.
Want to learn more about Design?
Join the aA Year of ArtPlay 2017 which is now underway and being enjoyed by artists just like you.
WHAT  STUDENTS ARE SAYING:
"I decided to break away this year from my normal minimalist style and strike out and I am so glad I took the plunge with Anna's ArtPlay 2017.  In this first month I've already learnt things I would not have had the nerve to try before (and it worked!).  The video was clear, the feedback invaluable and you don't have to use PS – I use Paint Shop Pro and all downloads have worked perfectly". Thanks Anna." – Lorraine
If you have an opportunity to take a class from Anna Aspnes DO IT!  You won't regret it.  Her classes allow you to see her decision process in real time and takes the mystery out of the 'how does she do that' questions. No matter whether you are a beginner or an advanced student you will learn something new in every class." – Barb
"Love the ArtPLAY classes. This newest one is so wonderful! I thought at first – I can't do this – I'm new to Photoshop – I don't even know the tools…. But just following Anna's directions, I am now playing with a bunch of photos. I even had one printed on metal and the people I have showed it to just go – WOW!  Anna is a impressive artist and I can't wait to continue with her Brush class next!  I really didn't know Photoshop could do all this stuff.' – Virginia.
You can learn more and register aA Year of ArtPlay 2017, after which you'll have immediate access to 5 months of artistry making content.
And Don't Forget: Share and connect with other artsy digital scrapbookers by posting your own Digital Designs Inspiration Meadow in the AnnaGallery.