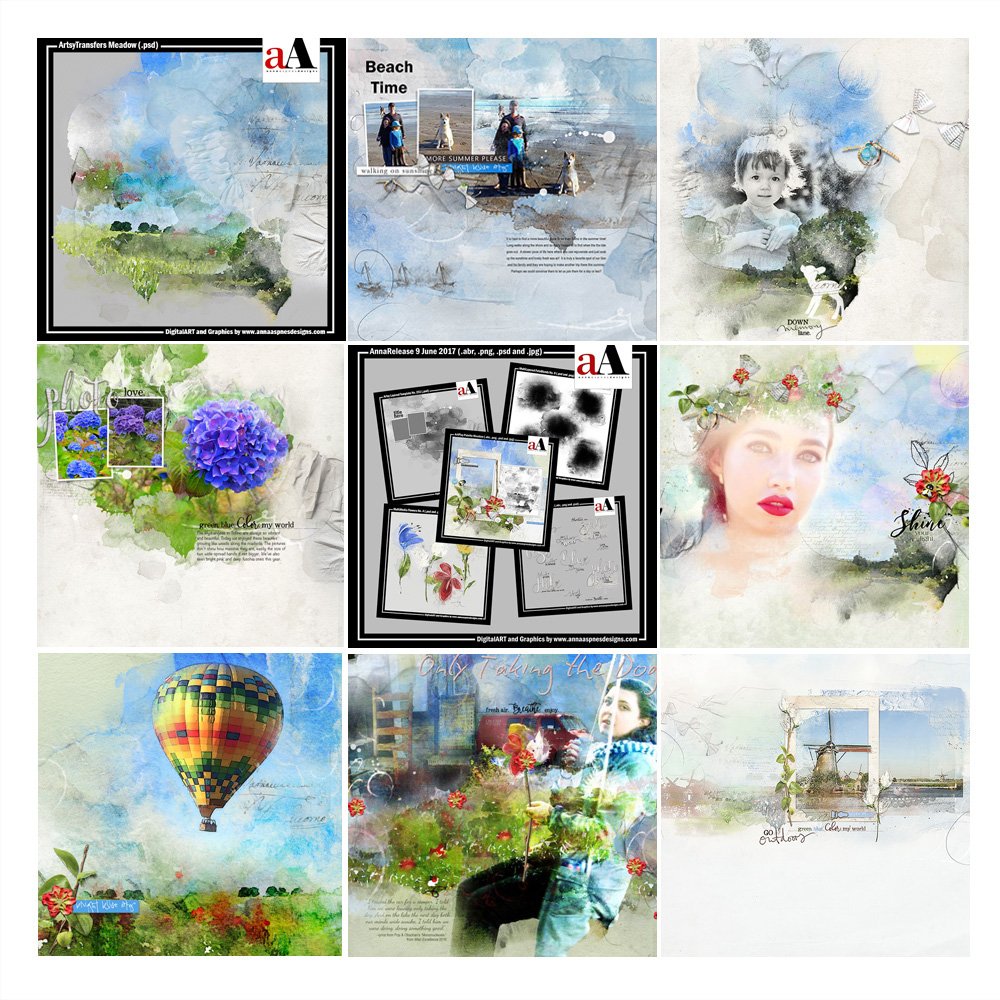 Happy Monday! Today we're sharing ArtPlay Meadow Inspiration for digital scrapbooking, photo artistry and photo manipulation in Adobe Photoshop and Elements.
This post is intended to give you guidance on using ArtPlay Palette Meadow, ArtsyTransfers and co-ordinating digital assets
Click on the image below to view more ArtPlay Wellspring Inspiration or visit the AnnaTeam Layouts board on Pinterest.
ArtPlay Meadow Inspiration
The aA Creative Team members have been making the magic happen with NEW DigitalART products at Anna Aspnes Designs.
More ArtPlay Meadow Inspiration  can be located in the AnnaGallery and the AnnaTeam Layouts board on Pinterest.
See our Gallery Highlights by clicking on the images to access complete digital design supply lists.
You will also find process notes and digital scrapbooking tutorials from each team member to provide new digital inspiration for using aA DigitalART designs.
1. Enhance the Watercolor
Mirror the watercolor effect of the artistry by matching with an edited photo in your digital scrapbooking and photo artistry.
See also:
2. Repetition of Elements
Lead the eye, create rhythm and visual interest by using the same element more than once in in your digital scrapbooking and photo artistry.
Place the Same Element multiple times but vary the Size and Rotation to yield Visual Interest.
Linda has used the same red flower element from MultiMedia Flowers No. 4 3 different times.
She makes the Repeated use of this element more exciting by changing the Element Properties via the Transform controls.
See also:
3. Contain Your Image
Use the artistry to 'mask' and define the edges of your blended photos in your photo artistry and digital scrapbooking.
Establish a layout foundation using an Artsy Paper or create your own using Transfers and Overlays from the ArtPlay Palette.
Blend your photo into the artsy foundation by Clipping a Photo to the layers of one of the MultiLayered FotoBlendz No. 8 files.
Notice how the Background artistry becomes the landscape to her portrait Focal Point.
See also:
More Inspiration
Click on the images for complete digital supply lists plus process notes:
ArtPlay Wellspring Collection
INDIVIDUAL PRODUCTS IN THIS SERIES:
Note that the 'Bundled' collection is available at Limited Times throughout the year.
Want More Digital Scrapbooking and Photo Artistry Inspiration?
EMAIL ME AT ANNA AT ANNAASPNESDESIGNS.COM OR POST IN THE COMMENTS BELOW.