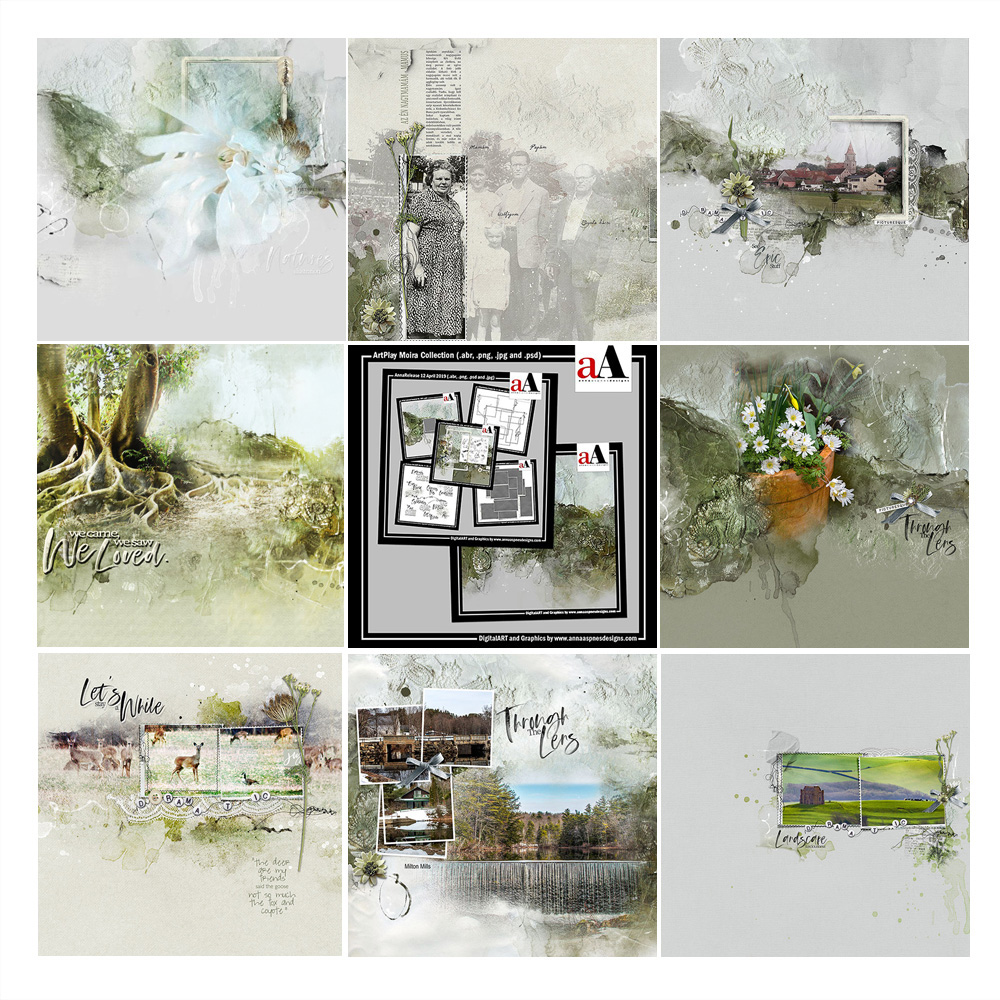 Happy Tuesday! Today we're sharing ArtPlay Moira Inspiration for digital scrapbooking, photo artistry and photo manipulation in Adobe Photoshop and Elements.
This post is intended to give you guidance on using ArtPlay Palette Moira, ArtsyTransfers and co-ordinating digital assets
Click on the image below to view more digital designs inspiration 'Moira' or visit the AnnaTeam Layouts board on Pinterest.
ArtPlay Moira Inspiration
1. Mix and Match DigitalART Supplies
Combine some of the Postages Frames No. 2 with other frames in your digital assets stash to create a collage style effect in your photo artistry pages.
Select frames with a differing Element Properties yo to create Visual Interest in displaying your photos.
Adryane has matted her smaller frames using the RippedPaper Templates No.1 to enhance her digital scrapbooking layout design.
Notice how Adryane clipped ArtsyPaper #2 from ArtPlay Palette Moira to the template mask and then blended her photo by applying a Blending Mode.
See also:
2. Creative Framing
Create a no photo digital artistry layout by creating a digital collage of Artsy Papers, Elements and Frames. 
See also:
3. Blended/Cropped Framing
Create a photo spill effect using Clipping Masks and element modifications to enhance your digital scrapbooking.
Place FotoBlendz Overlay On Top Of and area of the frame to enhance visual interest.
Clip your photo to the mask layer and customize with Photoshop Brushes as preferred.
Mask the frame layers to create this Photo Sill effect in your photo artistry layouts.
See also:
4. Custom Artsy Paper
Create your own Artsy Paper to create a custom layout foundation for your digital scrapbooking pages.
Place one paper over the over then apply a Blending Mode of most interest.
Blend parts of the top paper by applying a Layer Mask and Brushes.
Recolor your embellishments to support your photos.
See also:
5. Layer Elements
Place elements together and overlap the edges in your digital scrapbooking layouts.
Unify elements to create Focal Points and lead the eye around the photo artistry.
Experiment with overlapping the edges by Different amount and in various ways.
We love how Joan has used a collection of frames in different Sizes with various Widths of border.
See also:
6. Eye-catching Color
Use a small pop of color to excite and 'catch the eye.'
Add a 'pop' of unexpected color to create Tension in your digital scrapbooking design.
Choose an embellishment such as a flower, button or 'splash' of paint.
Notice how the dark pink creates Contrast against all the shades of green in the photo artistry.
See also:
7. Encircle Focus
Draw the eye to a detail in your photo or digital scrapbooking layout design.
You can use a Brush or Element from the ArtPlay Moira Collection.
Encircle the Point of Interest to lead the eye.
Notice how Ulla-May has used an ArtStroke to achieve this effect.
See also:
8. Combine Collections
Use products from different collections to customize your photo artistry.
Choose digital assets of different Color and Styles.
Charlene used a frame from MultiMedia Frames No. 7 to coordinate her artsy digital scrapbooking page.
Notice how the oval shape creates Contrast with the horizontal lines of the landscape background.
See also:
9. Offset Frames
Place stitched and regular frames slightly offset from one another in your digital scrapbooking.
Notice how this creates Depth and Dimension.
Miki has also used a variety of Angles in her lines to establish visual interest in the photo artistry.
We love the dimensional title effect to Mirror the offset frames too.
See also:
10. Contrasting Photo
Use a photo with contrasting color to create visual interest in your heritage digital layout designs.
Colorize a heritage photo and use to create the Tension in the photo artistry.
Notice how the yellow hue allows the image to Shine and stand out from the green hues in the ArtPlay Moira Collection.
We love how she has also supported the yellow with Similar toned embellishments.
See also:
ArtPlay Moira Collection

INDIVIDUAL PRODUCTS IN THIS SERIES:
Note that the 'Bundled' collection is available at Limited Times throughout the year.
ALSO AVAILABLE:
Want More Digital Scrapbooking and Photo Artistry Inspiration?
EMAIL ME AT ANNA AT ANNAASPNESDESIGNS.COM OR POST IN THE COMMENTS BELOW.