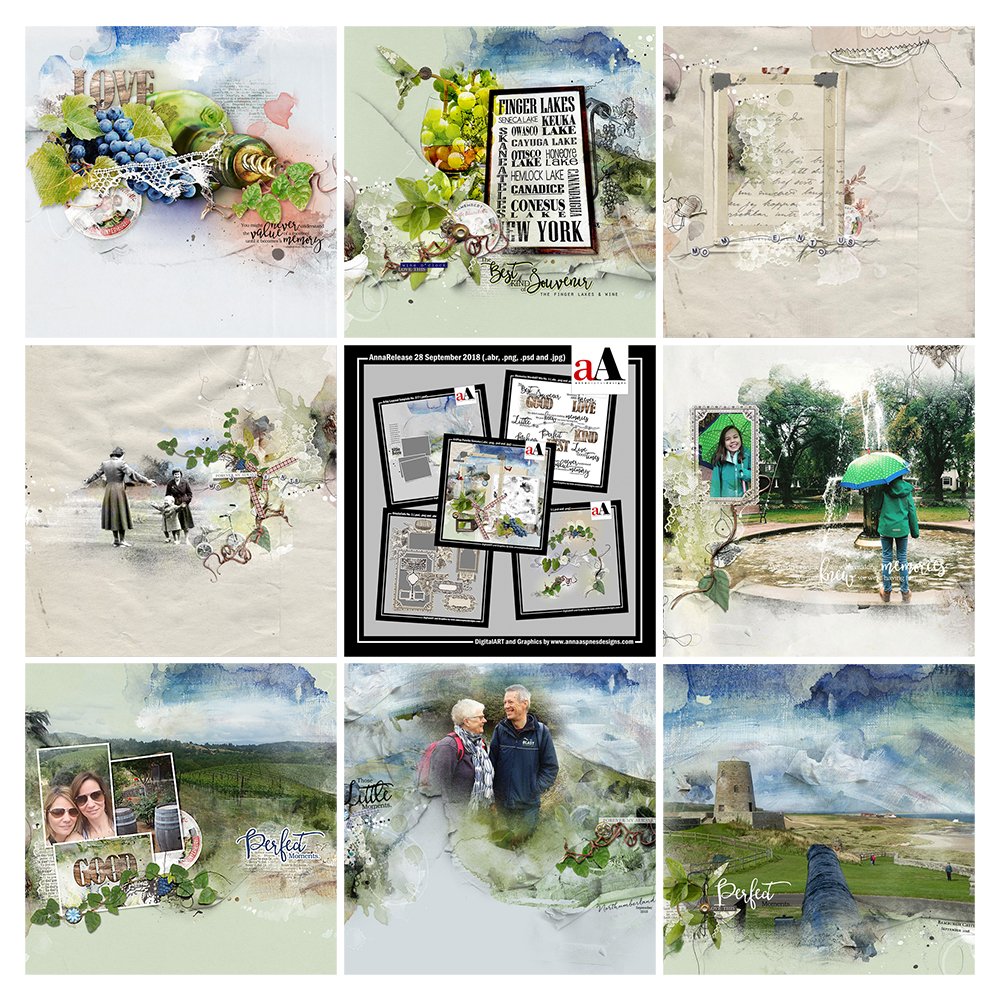 Happy Monday! Today we're sharing Digital Designs Inspiration Sonoma. 
AnnaRelease Sonoma, is the latest collection of digital designs for scrapbookers, photographers, artists and crafters to be released into the Anna Aspnes Designs store.
AnnaRelease Sonoma
The aA Creative Team have been inspired by the ArtPlay Palette Sonoma to inject a little cheer  into their artistry.
More digital designs inspiration Sonoma of course, can be located in the AnnaGallery.
Note that the AnnaRelease bundled option is only available until October 05, 2018 at 9am EDT..
Click on the image below to view more digital designs inspiration 'Sonoma' or visit the AnnaTeam Layouts board on Pinterest.
Digital Designs Inspiration Sonoma

Dog Kiss | Laura
Start with Templates
Artsy Template make a great starting point  to create a digital photo collage.
Clip your photos and DigitalART supplies to the various layers in the Artsy Template to personalize as preferred using the clipping mask function in Adobe Photoshop and Elements.
Laura often uses this approach to create quick and easy artistry.
See also:

Spring Mountain | Barbara
Blend with Transfers
Create visual interested by combining blended photos with Transfers and Overlays from your favorite ArtPlay Palette.
Clip a photo a FotoBlendz Clipping Mask, place over a Transfer of choice, and apply a Blending Mode to the 'mask layer' to create a fun artistry effect.
Barb was able to incorporate more photos in her design by using a photo strip from Accordion Frames No. 1.
See also:

Digital Collage Art
Create a digital collage using a collection of themed elements from ArtPlay Palettes.
The imagery can become the foundation and subject matter of your digital artistry or scrapbooking page.
Notice how Ulla-May has applied Drop Shadow Layer Styles to each element to create depth and visual interest in her design.
See also:
Want More Digital Artistry and Scrapbooking Guidance?
Find more Digital Designs Inspiration Sonoma in the AnnaGallery.
We invite you to post your pages and share your digital scrapbooking and artistry endeavors.