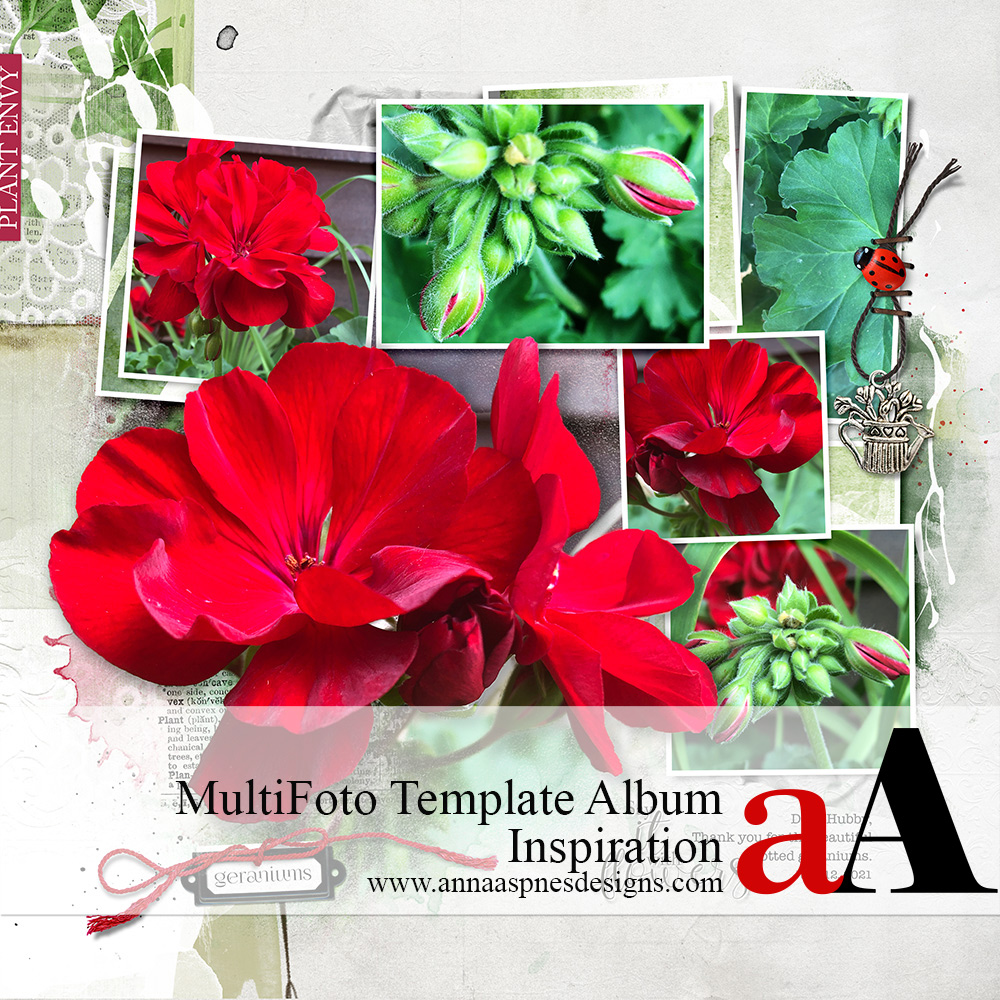 Today, I'm sharing MultiFoto Template Album Inspiration.
MultiPhoto Template Album Inspiration
Introduction
The MultiFoto Template Album series guidance plus inspiration for use in your digital scrapbooking and photo book making.
Learn about the origins and intended usage of the template collection.
Glean inspiration from the talented

a

A

team.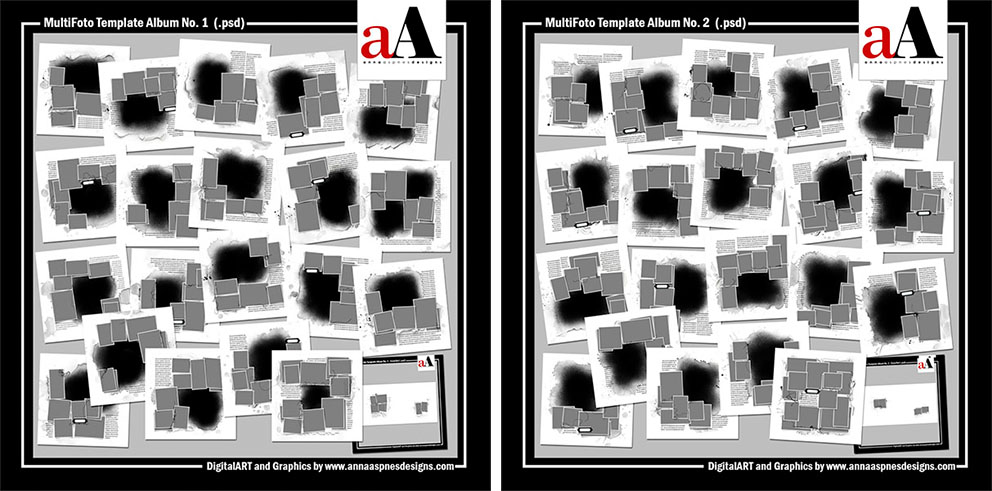 There are currently 2 collections in this series by Anna Aspnes Designs.
Each collection includes 20 – 12 X 12 artsy and blended layered templates.
The layers in each template are designed to be used with the Clipping Mask function and/or for Recoloring in Photoshop, Elements and Paint Shop Pro.
These templates offer a LARGE number of photo frames for creating 'photo-intensive' digital scrapbooking and photo book layout designs.
Includes a BONUS 12 X 12 'Intro' and 'Summary' Layout PLUS Cover Set for photo-book printing.
Templates are comprised of a variety of Clipping Masks, frames, 'Book Plate' elements, PaperTextures, BrushWork, Stitching, and Text Boxes with Layer Styles where appropriate.
May be used Independently as individual layouts OR combined to create Cohesive Double-Page Spreads.
a

A

Inspiration for Use
1. Recolor Stains
Change the color of the stains to coordinate with your focal photo.
The Focal Point is the largest image in your design.
This will be the photo clipped to the FotoBlendz Clipping Mask in the template.
Recolor the stains around the mask to the SAME color as your photo.
See also:
'Useful Techniques' video on the Resources page.
2. Span a Photo
Clip multiple copies of the same photo to multiple frame layers.
Place a photo so the edges extend Beyond all frame layers.
Duplicate the image layer, move directly and Clip to the 'frame' mask layer.
Repeat to fill ALL frames.
See also:
3. Add Depth with Extractions
Create an extraction with cast shadow add dimension to a digital scrapbooking layout.
See also:
4. Modify Templates
Rotate and remove elements to better suit your photos.
Rotate the entire template by 90 degrees OR just a single element such as a frame.
'Turn off the Visibility' or Delete frames to make SPACE for more journaling text boxes.
Reposition elements as preferred to Modify your digital scrapbooking layout design.
See also:
5. Double-Up
Combine 2 coordinating templates to create a cohesive double-page spread.
Create a 12 X 24 inch New Layout at 300 DPI.
Embellish and create BALANCE with your photo, words and

a

A

DigitalART.
See also:
6. Add Color
Use Color to add Visual Interest and a bit more excitement to your photos.
Choose a bright and bold Artsy Paper from the ArtPlay Palette of your choice to Accentuate the colors in your photos.
You can Match hues in your images to create BALANCE or add Color to a more neutral photo yield Tension.
Create 'color buddies' to lead the eye and foster Cohesion in your digital scrapbooking layout design.
See also:
7. Reformat and Adapt
Modify the Templates to suit your preferred size in digital scrapbooking.
Create a New Layout in the Size of your choice.
Move elements and layers from the Template to your digital scrapbooking layout design.
Reposition and Modify to suit your photos and preference.
See also:
8. Create Custom Clusters
Create groups of elements to lead the eye and add Visual Interest in your digital scrapbooking layout designs.
See also: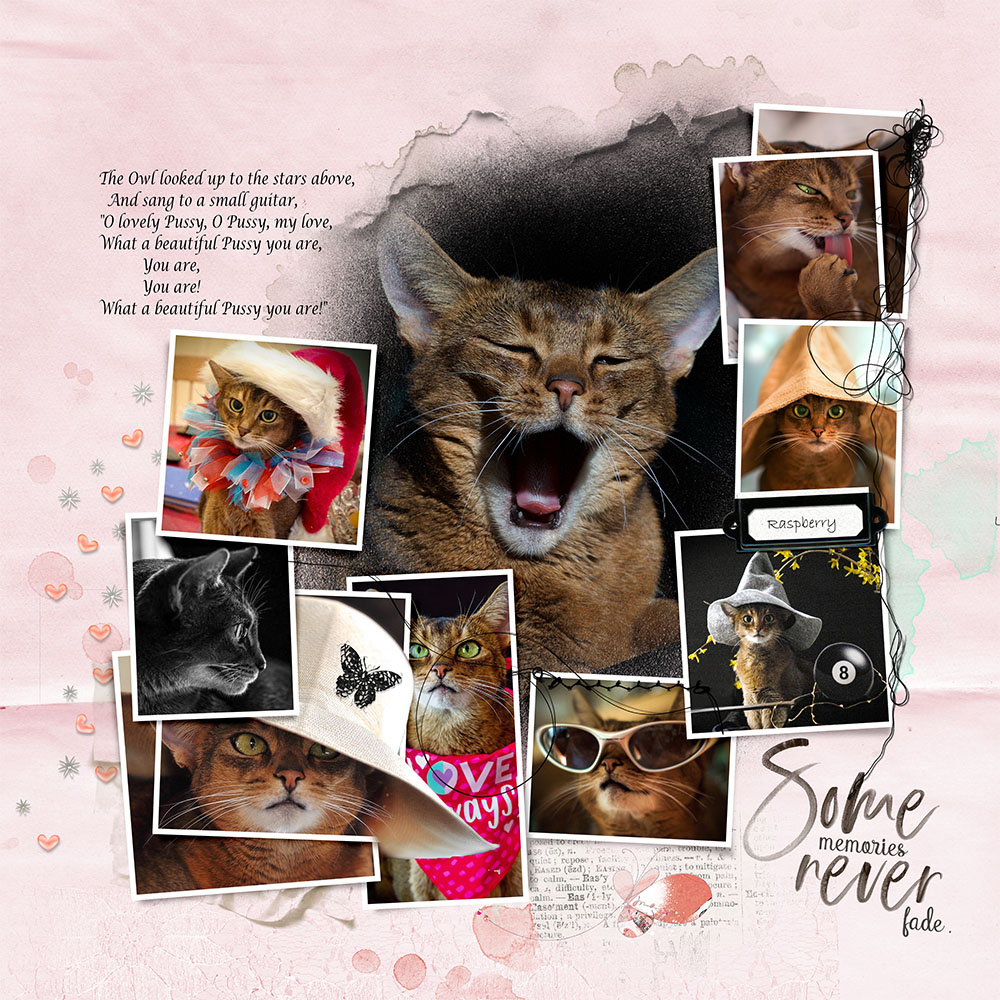 9. Out of Bounds 
Create an extraction give the impression that the photo subject is 'spilling out' from the frame.
Notice how the cat's hat Extends beyond the boundaries of the frame.
This is achieved by creating a Partial Extraction of the photo subject.
This means just part of the Background is removed from the image.
See also:
10. Split a Template
Arrange the template layers across a double-page spread.
Arrange the frames on One Side of the digital scrapbooking layout.
Move the FotoBlendz Clipping Mask on the other side of the design.
Embellish with Co-ordinating

a

A

DigitalART supplies.
See also:
Summary
These templates are perfect for a variety of themes and photos.
Create single OR double layouts.
Design a complete photo project.
Modify the template to BEST support your photos and stories.
See also:
AND IF YOU LIKED THIS MultiFoto Template Album Inspiration, try some of the techniqiues suggested to elevate your digital scrapbooking pages AND POST YOUR ARTISTRY TO THE ANNAGALLERY.