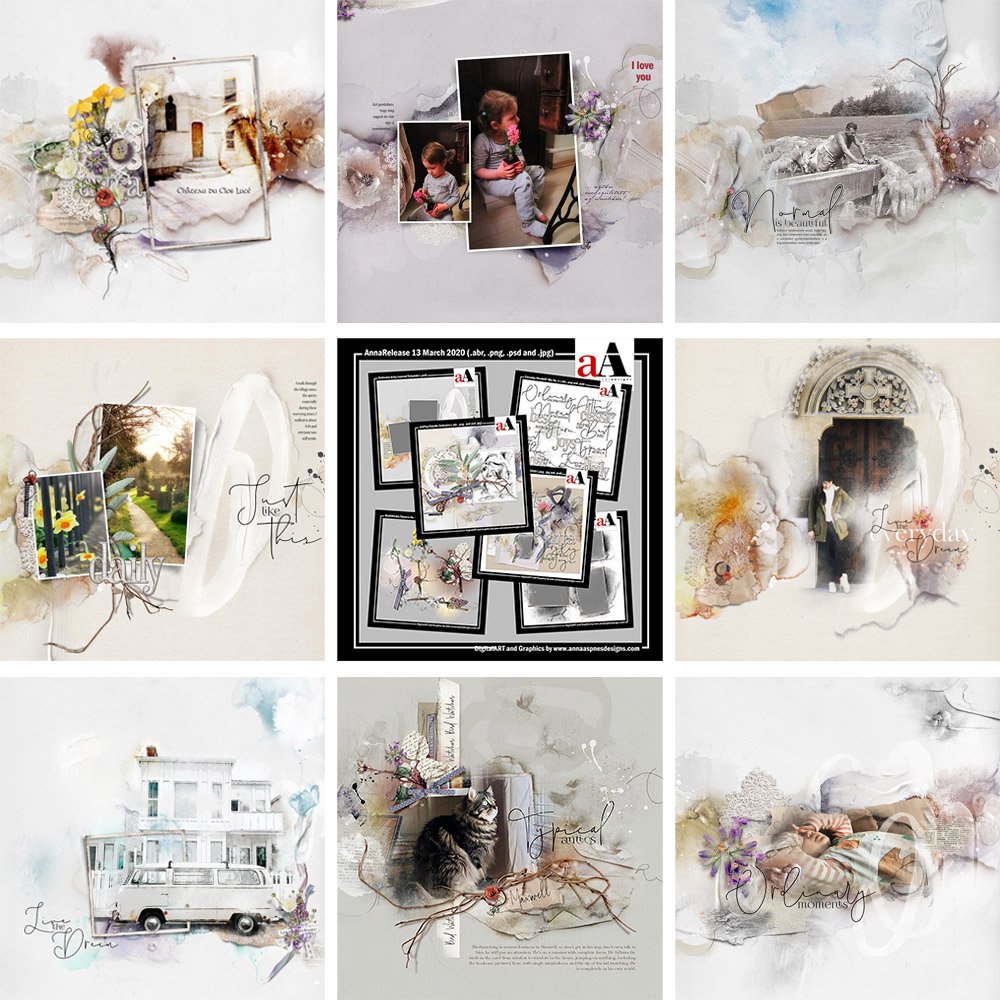 Happy Tuesday! Today we're sharing ArtPlay Ordinare Inspiration.
This post is intended to give you guidance on using ArtPlay Palette Ordinaire and co-ordinating digital assets
ArtPlay Ordinare Inspiration
Click on the images below to access complete digital design supply lists and process notes.
1. Embrace White Space
Create Balance with areas of White Space and Visual Interest in your digital scrapbooking and photo artistry.
2. Embellishment Placement
Experiment with the position of your element layers in your digital scrapbooking and photo artistry.
3. Align Photo with DigitalART
Coordinate your photo subject with the Artsy Paper in your digital scrapbooking and photo artistry.
4. Create a Linear Design
This is when the artistry extends from one side of the digital scrapbooking layout to the another.
The photo artistry has either with a Horizontal or Vertical orientation.
Also known as a Band Layout Design.
The artistry is 'sandwiched' by 2 areas of White Space.
Notice how Ulla-May has placed her Focal Point of center to coordinate with the collection of digital assets.
See watch The ArtsyCanvas class.
5. Sourcing Elements
Use elements from the Artsy Layered Template to create your digital scrapbooking and photo artistry.
6. Unify with Elements
Use a cluster of embellishments to connect 2 Focal Points in your digital scrapbooking and photo artistry.
The Placement of the element cluster bridges the gap or White Space between different areas of artistry.
Combine Multiple embellishments with varying Element Properties to create Visual Interest.
Notice how the length of the twig element Aligns with the artistry to Lead The Eye.
Love the Charlene's clever use of the frame element over the button.
See also Create Custom Clusters series.
7. Simply Framed
Frame your photo to create a quick and easy digital scrapbooking or photo artistry page.
Use an Artsy Paper from an ArtPlay Palette as the foundation for your your digital scrapbooking layout design.
Let the artistry guide the Placement of your frame.
Clip your photo to the mask layer using the Clipping Mask Function in Adobe Photoshop or Elements.
Embellish with a variety of elements to support your Theme.
See also Useful Techniques video on the Resources page.
8. Create WordART Cluster
Build a cluster with a WordART title for your digital scrapbooking or photo artistry designs.
Include the WordART as part of an embellishment context to create a Focal Point the provides Context to your page.
Align the word elements with the cluster of embellishments to connect to the embellishments.
Notice how this increases the Visual Weight of the cluster.
ArtPlay Ordinare Collection

Individual products in this series:
Note that the 'Bundled' collection is available at Limited Times throughout the year.
Also available:
Want More Digital Scrapbooking and Photo Artistry Inspiration?
Email me at anna at annaaspnesdesigns.com or post in the comments below.