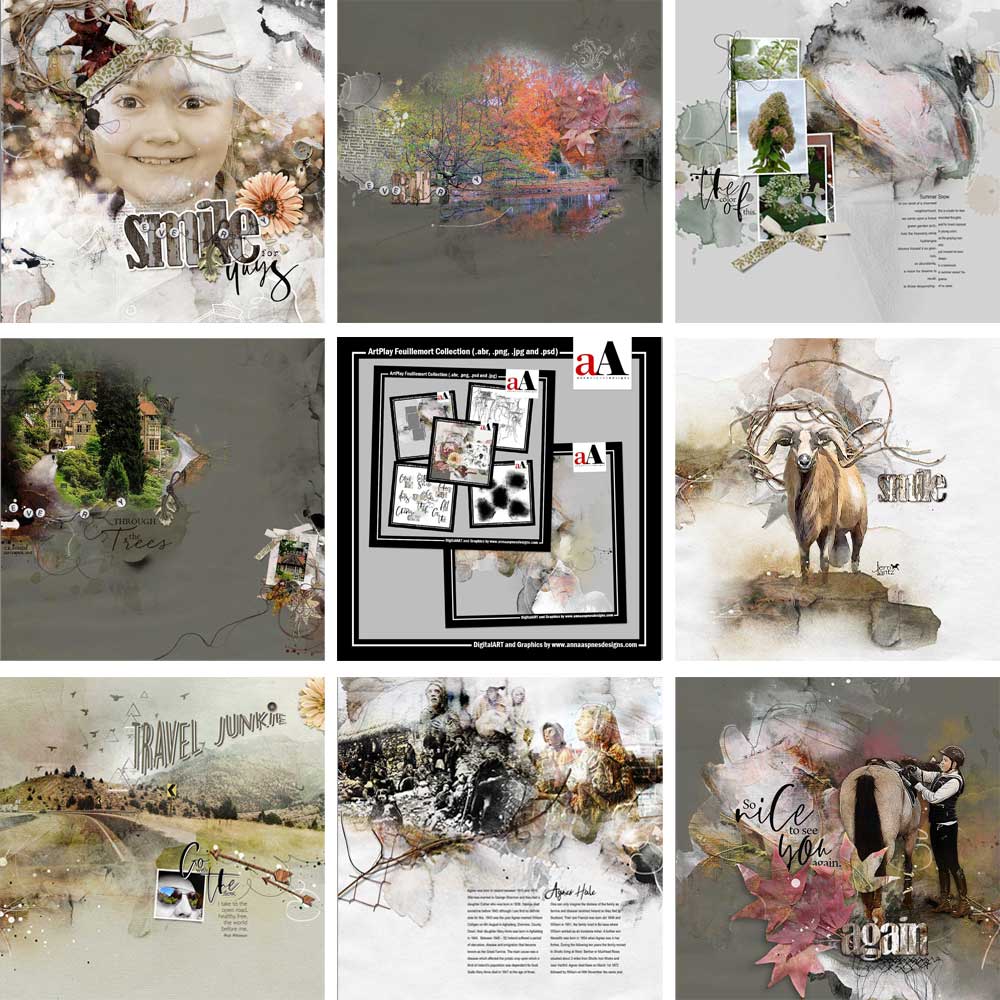 ArtPlay Feuillemort Inspiration post for digital scrapbooking and photo artistry in Adobe Photoshop and Elements.
The purpose of this post is to provide inspiration for using the ArtPlay Palette Feuillemort and coordinating digital assets.
ArtPlay Feuillemort Inspiration
1. Anchor with UrbanThreadz
Stamp UrbanThreadz close to the top edge of your digital artistry or scrapbooking layout.
Anchor the eye to either side of your digital scrapbooking layout using UrbanThreadz No.
Notice how the stitching elements are placed on a diagonal to create Tension but the 'tails' of the threads with draw the eye down to the photo Focal Point.
We love how Heather has mirrored this effect by incorporating the stitching with her Embellishment Cluster.
See also:
2. Two Styled Titles
Combine 2 different types of WordART to create your titles in your digital artistry or scrapbooking pages.
Place 2 elements from the WordART Mix No. together in Unity to establish a digital scrapbooking title.
Notice how this provides create contrast and therefore Visual Interest in the artistry.
We also love how Miki has Recolored the WordART elements to provide additional contrast against the background of her digital scrapbooking page.
See also:
3. Blend with Masks
Mask your photo using a FotoBlendz Clipping Mask to create an easy blended photo effect in your digital scrapbooking pages.
Move the FotoBlendz clipping mask and position over your digital scrapbooking layout foundation.
Place a photo directly over the mask so that all edges Exceed the Boundaries of the FotoBlendz shape.
Go to Layer> Create Clipping mask to make the photo conform to the shape of the underlying mask.
See also:
More Inspiration
Click on the images below to access complete digital design supply lists and process notes.
ArtPlay Feuillemort Collection
A NEUTRAL LATE FALL-THEMED DIGITAL SCRAPBOOKING AND PHOTO ARTISTRY COLLECTION.
Includes:
See also:
Want More Digital Scrapbooking and Photo Artistry Inspiration?