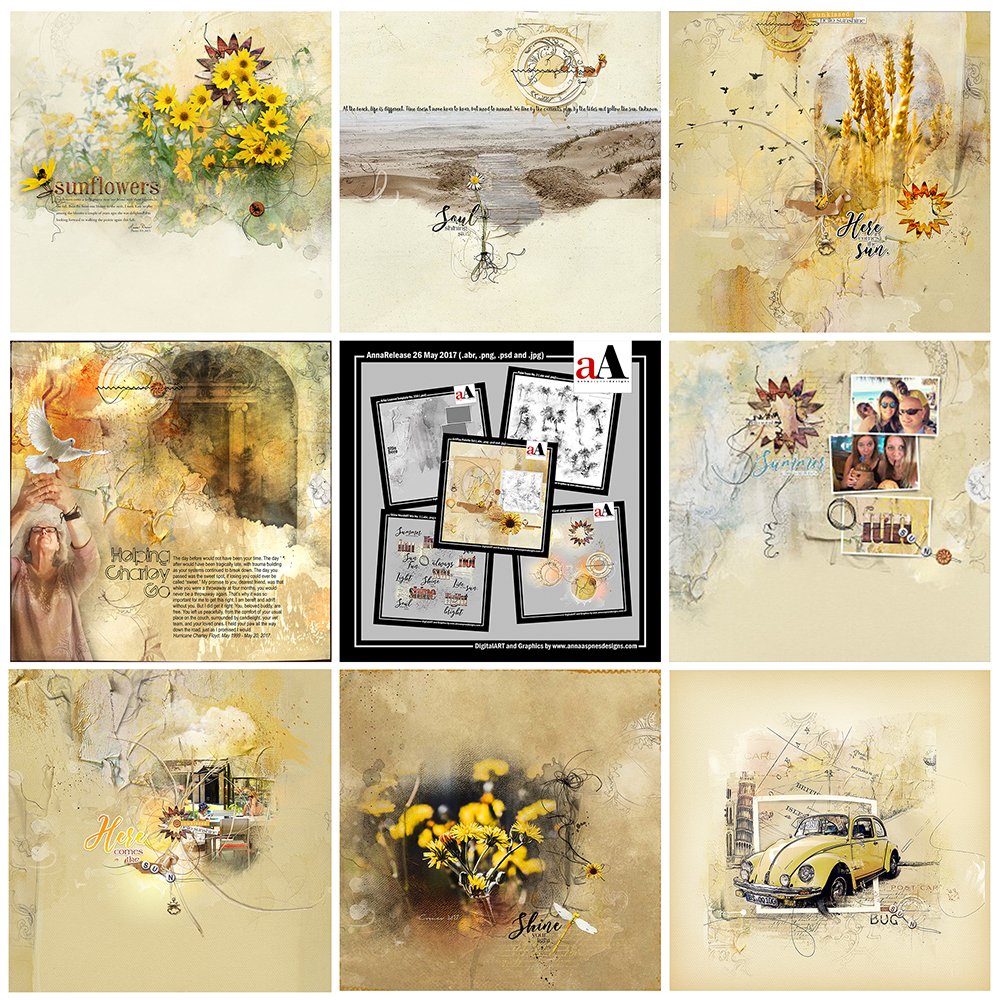 Happy Tuesday! Today we're sharing ArtPlay Sol Inspiration for digital scrapbooking, photo artistry and photo manipulation in Adobe Photoshop and Elements.
This post is intended to give you guidance on using ArtPlay Palette Sol, ArtsyTransfers and co-ordinating digital assets
Click on the image below to view more ArtPlay Sol Inspiration or visit the AnnaTeam Layouts board on Pinterest.
ArtPlay Sol Inspiration
1. Use Blending Modes
Apply blending modes to images to adjust depth of color in your digital scrapbooking and photo artistry layouts.
Blending Modes are a function of Adobe Photoshop and Elements.
They enable you to 'blend' the pixels of one layer with another altering the Color, Contrast and Visual Interest of your artistry.
Notice how Fiona has applied them to both her photo and the MultiMedia Suns No. 3 element placed on the right edge of her digital scrapbooking page.
Also See:
2. Apply Color Contrast
Add shades of black to your digital scrapbooking pages to create high value artistry.
The Contrast created between light and dark shades creates Visual Interest in your artsy digital scrapbooking
Notice how the black carries more Visual Weight than the lighter yellow tones in the artistry.
Christy has added brushes in black, which co-ordinate with her title Leading the Eye around the layout design.
See also:
3. Duplicate Elements
The repetition of elements with slight variation guides the viewers eye around a digital scrapbooking page.
Use the Same Element multiple times changing the Element Properties to establish variation.
Heather has the same gem element to create a Scattering and has created variation through size.
The gem element is used to 'Dot the i' in her title is brilliant.
See also:
4. Title Effects
Apply unexpected effects to your WordART to create Tension in your digital scrapbooking pages.
Tension is that 'secret sauce' that excites the eye and creates Visual Interest in your photo artistry layouts.
Notice how Diane has applied a Blending Mode to her WordWord for a different title approach.
The resulting colors are Bright which coordinate well with the bold colors in her layout digital design.
See also:
5. Embellish Elements
Use transparent elements to add visual interest to your focal images in your digital scrapbooking pages.
Clip Overlays or Brushes to extracted images or embellishments to enhance the visual appeal.
Jerri clipped a ScriptTease element from the WordART in the ArtPlay Sol Collection to the sunflower images.
We love how Jerri has applied generous Drop Shadow Layer Styles to the artistry to yield fabulous Dimension.
See also:
6. Blend with ArtsyTransfers
Blend your photo by clipping your photo to multiple layers in an ArtsyTransfer.
Position the ArtsyTransfer file on the Layout Foundation and clip a photo to one of the layers.
Duplicate the photo layer, drag up/down the Layers Panel, and clip to another layer.
Repeat this process but do NOT reposition any of the photo layers.
See also:
7. Mix Old and New
Combine old photo with new ArtPlay Collections to create eclectic digital scrapbooking layouts.
See also:
8. Outside-The-Box Mask
Clip a photo to an ArtPlay Palette Transfer as a unique clipping mask approach in your digital scrapbooking pages.
Photos can be blending into your photo artistry using elements other than FotoBlendz clipping masks.
Recolor the Transfer as preferred and apply a Color Burn Blending Mode to enhance the blending effects.
Notice how Michelle has placed Transfers, PaperTextures and Brushes from the BrushSet and ArtsyTransfers below the image.
See also:
ArtPlay Sol Collection

INDIVIDUAL PRODUCTS IN THIS SERIES:
Note that the 'Bundled' collection is available at Limited Times throughout the year.
Want More Digital Scrapbooking and Photo Artistry Inspiration?
EMAIL ME AT ANNA AT ANNAASPNESDESIGNS.COM OR POST IN THE COMMENTS BELOW.