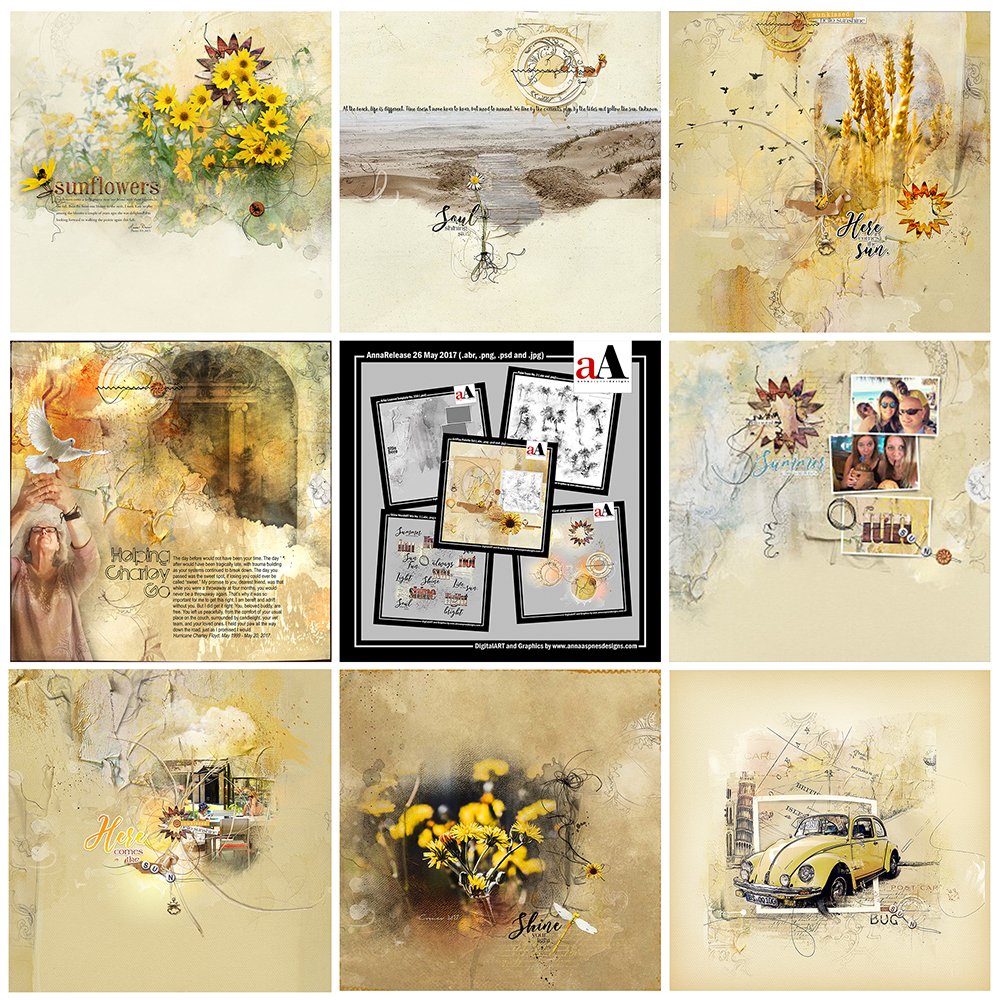 Today we're sharing digital designs inspiration Sol on this Memorial Day 2017.
Thinking of all those who have served and sacrificed their lives for the freedom we enjoy today.
AnnaRelease Sol is the newest collection of digital designs for scrapbookers, photographers, artists and crafters to be released into the Anna Aspnes Designs store.
AnnaRelease Sol
The aA Creative Team are getting all sunny on us using the new ArtPlay Palette Sol and supporting DigitalART products.
More digital designs inspiration Sol of course, can be located in the AnnaGallery.
Note that the AnnaRelease bundled option is available for ONE week only.
Click on the image below to view more digital designs inspiration 'Sol' or visit the AnnaTeam Layouts board on Pinterest.
Digital Designs Inspiration Sol
See our Gallery HighLights by clicking on the images to access complete digital design supply lists. You will also find process notes and digital scrapbooking tutorials from each team member to provide new digital inspiration for using aA DigitalART designs.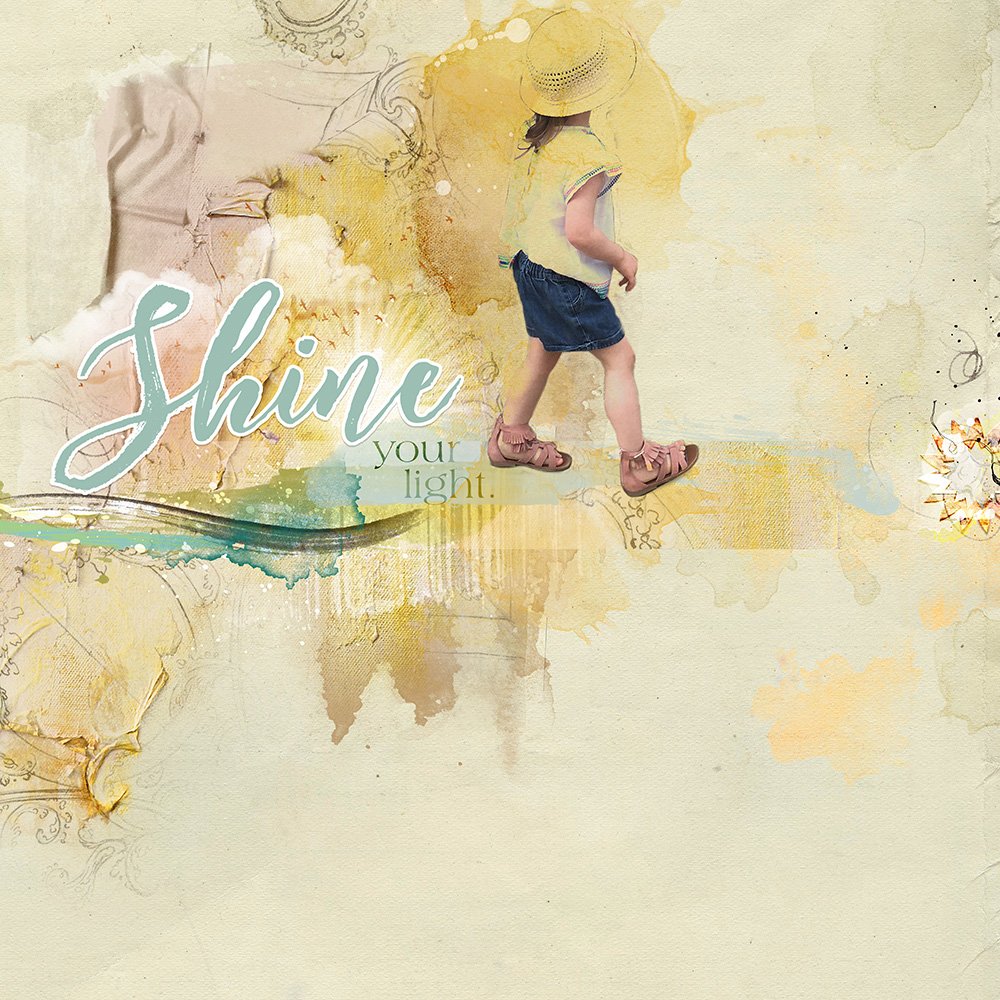 Shine Your Light | Fiona
Using Your Blending Modes
This nifty little function in Adobe Photoshop and Elements enables you to blend the pixels of one layer with another altering the color, contrast and visual interest of your artsy digital scrapbooking and photo artistry layouts.
Blending Modes are located at the top of your Layers panel and can be applied to any layer. Fiona has applied them to both her photo and the MultiMedia Suns No. 3 element placed on the right edge of her digital artistry page.
Want to learn more about Blending Modes?
Checkout the April, and just-posted May, Year of ArtPlay sessions in which I use Blending Modes in the creation of 2 different layouts.
Summer Adventures | Christy
Apply Color Contrast
Combine color with shades of black and white to add contrast and visual interest in your artsy digital scrapbooking and photo artistry layouts.
Christy has added brushes in black, which co-ordinates with her title and the tones of her photo to create inclusion in the design of her page.
You may also consider adding black and white photos to your layouts.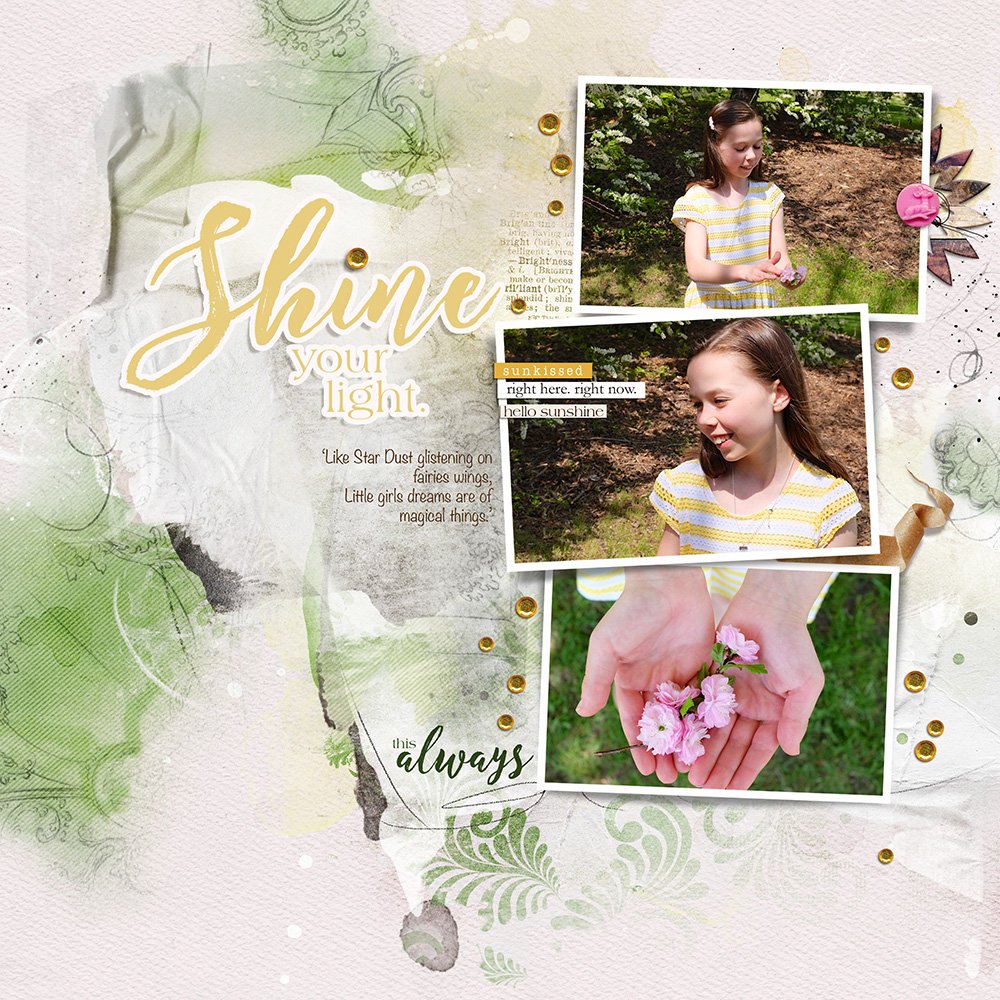 This Always | Heather
Add Duplicate Elements
Use the same element multiple times changing the size, color and placement as preferred.
I love how Heather has the same gem element to create a scattering and has created variation through size.
The gem element is used to 'dot' the 'i' in her title is brilliant.
Want to learn more about Design?
Join the aA Year of ArtPlay 2017 which is now underway and being enjoyed by artists just like you.
What  students are saying:
"I decided to break away this year from my normal minimalist style and strike out and I am so glad I took the plunge with Anna's ArtPlay 2017.  In this first month I've already learnt things I would not have had the nerve to try before (and it worked!).  The video was clear, the feedback invaluable and you don't have to use PS – I use Paint Shop Pro and all downloads have worked perfectly". Thanks Anna." – Lorraine
If you have an opportunity to take a class from Anna Aspnes DO IT!  You won't regret it.  Her classes allow you to see her decision process in real time and takes the mystery out of the 'how does she do that' questions. No matter whether you are a beginner or an advanced student you will learn something new in every class." – Barb
"Love the ArtPLAY classes. This newest one is so wonderful! I thought at first – I can't do this – I'm new to Photoshop – I don't even know the tools…. But just following Anna's directions, I am now playing with a bunch of photos. I even had one printed on metal and the people I have showed it to just go – WOW!  Anna is a impressive artist and I can't wait to continue with her Brush class next!  I really didn't know Photoshop could do all this stuff.' – Virginia.
You can learn more and register aA Year of ArtPlay 2017, after which you'll have immediate access to 5 months of artistry making content.
And Don't Forget: Share and connect with other artsy digital scrapbookers by posting your own Digital Designs Inspiration Sol in the AnnaGallery.